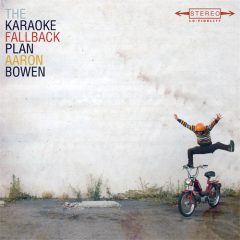 Aaron Bowen – dyed-in-the-wool mercurial madman-genius – is on a perpetually morphing crusade. Several, actually.
When the Troubadour last checked in with him via January's cover story, this album – Aaron's third – was going to be called Abstract Logic, would boast an aesthetically sophisticated Peter Gabriel-esque cover design and would generate charitable donations for the Humane Society and local animal shelters from album and download sales respectively. And then the conversation happened, in which the new title was humorously uttered and enthusiastically co-opted. And the serendipitous trip with a photographer friend that took them by a well-textured building, and the sudden resulting urge to commit and photograph a comical act of spontaneity in front of its high, weed-lined wall, which subsequently swept aside the previous, comparatively overelaborate cover concept with its lighthearted simplicity. And mere days after the album was finished (and only days before its submission to the Troub for review), Bowen suddenly shifted his humanitarian focus to supporting a new cause with the album's proceeds: raising money for an operation that would save the eyesight of local artist Loki Darling (www.wepay.com/donations/help-an-artist-save-her-eyes), who is suffering from keratoconus.
The calm eye of the mutable maelstrom is, as usual, Bowen's music, which in itself is unchangeable in its restless striving for freshness within the fatigued Americana genre, and, which surprisingly – and thankfully – hasn't changed since January. His musical – and now political – mission finds him taking Radiohead down to the farm on the banjo-picked, syncopated drum groove of "Beauty" (Jake Najor is a skittish yet grooving traps treat here), as an irony-laden soundbite pastiche in the coda heralds the manifesto ("The defense policy of the United States is based on a simple premise: the United States does not start fights…we will never be an aggressor." –Reagan). Najor's drumming shines again on "Strange," in which softly swinging brushes oscillate with choppy martial stick-rolls on a mellow sea of piano, strings, slide and acoustic guitars. Bowen's Paul Simon tenor croons liltingly over arrangements that can shift genre and rhythmic emphasis on a dime; so liltingly, in fact, that it tends to obfuscate the lyrics, which don't judge but clearly illuminate everything suspect around him, and us, with not so much a pointing finger as a polite nod of the head.
Fans of Bowen's previous work might wish there were more delectable vocal and musical hooks à la A Night at Sea to sink their hum-along teeth into (although the Graceland-ish "Oh Edith" rivals any earworm in his – or anyone's – oeuvre), and less striving for the "secret chord" that might lead to the promised land of innovation. But what makes it such an important album for him as an artist – and for us as listeners – is that The Karaoke Fallback Plan has exactly the right type and degree of agitation needed to break new ground and build Bowen a reputation as a within-his-lifetime innovator without alienating too many fans in the process. In short, this album is the perfect golden spike on the musical – and philanthropic, and politically minded – railroad tracks towards progress.
Key Tracks: "Strange," "Oh Edith," "Beauty," "So Well."
aronbowen.bandcamp.com/album/the-karaoke-fallback-plan