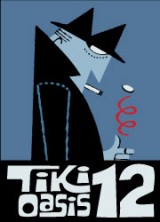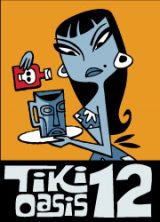 On the silver screen during the '60s, audiences were captivated by the suave persona of Sean Connery as 007, the cynicism of Michael Caine as Harry Palmer, and the devil-may-care attitude (not all that different from his TV host persona) of Dean Martin as secret agent Matt Helm. On television, viewers were entertained by Patrick Macnee as the unflappable "Avenger," John Steed, Patrick McGoohan as the tough-as-nails "Secret Agent Man" (known as "Danger Man" in the UK), John Drake, and the revolving cast members of the Mission Impossible team.
Americans were all a go-go about the cloak-and-dagger crowd, and that spy world that consumed pop culture will be celebrated this month at the 12th annual Tiki Oasis celebration in San Diego. With the title theme of "Exotic Espionage and Polynesian Pulp," the annual global gathering of Tiki aficionados will cover the weekend of August 16-19. But what does the high energy of the secret agent genre have to do with the more serene sounds of Martin Denny and Les Baxter or a refreshing Mai Tai being concocted near a lagoon? For Tiki historian Will "The Thrill" Viharo, there's actually quite a bit. In his introductory remarks on the current Tiki Oasis website, Viharo mentioned the groundbreaking show, "Hawaii Five-0," as an action series where an island world of good versus evil happily co-existed with tropical exotica. "In 1968 the world was introduced to the milestone TV series starring Jack Lord (foreshadowed by his role as CIA agent Felix Leiter in (the Bond film) Dr. No), and the pilot episode, which introduced Detective Steve McGarrett's infamous internationally insidious nemesis Wo Fat (Khigh Dhiegh), was an awesome aloha alchemical blend of crime, spy, and Tiki aesthetics that resulted in one of the longest running cop shows in history," said Viharo. "The Ventures had a chart-topping hit with their version of Morton Stevens' famous "Hawaii Five-O" theme, echoing the influence of John Barry's iconic "James Bond Theme" introduced in Dr. No, which also featured reverberating electric guitars."
Providing a spy guitar element to their explosive combination of surfing and garage rock will be San Diego's Creepy Creeps, performing at Tiki Oasis 12 as Creepexotica. Having performed in the past in costumes straight out of Día de los Muertos, it will be interesting to see what threads they appear in for this upcoming date. Two San Diego area DJs will also be showing up with their sizable vinyl collections for the festival. Audrey Moorehead spun discs as the '90s were coming to a close and the new millennium was arriving at the Hipsters ("an authentic '60s night out in swinging San Diego") nightclub, located at the Kensington Club. She has been involved with '60s music scenes on an international scale and may currently be heard at 2pm Sundays online over Radio Luxuria's "Pretty World" with Switched On Audrey. O'Rourke was part of pre-Tiki Oasis lounge activity in the '90s when she played records at the Live Wire Bar in North Park and the Taboo lounge nights at the Hanalei Hotel. Originally from the Netherlands but now in Escondido, the chanteuse Truus de Groot will bring her operatic range to Tiki Oasis on August 17th. Truus' stage show brings a contemporary twist but at the same time pays homage to the most exotic of all exotica singers, the late Yma Sumac.
Truus' husband is the celebrated revivalist of Tiki art, Bosko. From authentic Tiki wood carvings to unique mugs and illustrations, Bosko has made a significant contribution to the revivalism of Polynesian pop art. He finds tranquility for his artistic pursuits up in Escondido. "It is a fairly large compound in the foothills; we have art and music studios, the workshop where we create the sculptures, and other bigger art pieces I can't fit inside a 36″ door, " said Bosko. "[There's] a huge A-frame that houses a 14-foot Milan Guanko Tiki carving (from the defunct Kapu Kai on old Route 66) and various other larger carvings we've managed to save from destruction over the last couple of decades. The Kapu Tiki room (my home bar) with decades of Tiki clutter is off the main shop with an A-frame leading inside. It is like a shrine museum to the Polynesian Pop era. Outside are hundreds of Tikis I've carved and sculpted over the years (many with woodpeckers raising families in them), anywhere from a few inches high to over 15 feet high." Bosko still has space for "more plants, dogs, and chickens."
Bosko encourages interested parties to visit his website at http://www.tikibosko.com/tikicarve_custom.html. "You can see the hut and Kapu Tiki, there are more photos in the 'About Bosko' section as well as a short documentary that was shot (when the Bali Hai on Shelter Island was in danger of having its lease pulled/revoked a few years ago) with me explaining why it was important to recognize Polynesian Pop as a valid American movement." Bosko explained.
On Sunday, August 19th, Bosko will be lecturing on "Polynesian Pop in Mid-century San Diego." It was a subject area that consumed Bosko back in the mid-'90s. "Back then I was the only person who was part of the new resurgence that lived South of Los Angeles. [Tiki Oasis creator] Otto von Stroheim asked me to do a Tiki 'tour' of what was then still left in the San Diego area, which at that time was quite a bit. The old Kona Kai on Shelter Island was still around, the Hanalei in Mission Valley was still in pristine shape, its restaurant "The Islands" was the most elaborate Polynesian-style interior west of the Mississippi. There were a lot of other "Tiki" establishments, most of which are all long gone now. [By] 2005 I had been researching/exploring the Hanalei/Islands (where Tiki Oasis is held) for many years. Otto asked me to do a walking tour explaining its history and what had been there in its heyday to attendees. Afterwards we handed out my original San Diego tour to people and I realized nearly everything was now gone. For the following year Otto asked if I would be into doing an updated lecture based on my original San Diego Tiki tour, but by this point I had over a decade of research and urban archeology under my belt, so we put together a painfully long 300-slide version of everything I had learned since the mid '90s.
"This year is the fourth or fifth time I've given this particular talk. Mid-century San Diego had the most elaborate/deliberate Polynesian style architecture in all the U.S., so there was a lot to talk about. Now I have it paired down to what I feel is really compelling about San Diego history but I am always discovering new stories, people, information, photos that keep the talk fresh. This year I am going to focus more on how ugly things (architecture) are now with a compare and contrast of the buildings in question. By far the most interesting story I've dug up is the 1972 Republican National Convention in San Diego [which never happened — there was a 'scandal']. It all started with a swizzle stick for the event that I discovered many years ago and mushroomed into the craziest story you could imagine [Watergate, the mob, John Lennon, hippie assassinations] and it all centered around the Polynesian pop culture of the period."
Bosko says his favorite memory of Tiki Oasis was when "Beachbum Berry was giving one of his marvelous tropical drink talks. This particular one featured Don the Beachcomber drinks. He brought up on the stage Ray Barrientos and Bob Esmino, both very old school mixologists from Don's. They got a standing ovation from the crowd. They did a short Q&A, but what was most touching was when Ray tried to explain how amazing this all was to them; all this time [over 40 years] they thought the whole movement they had experienced firsthand had been long forgotten. Now here they were at this event with a whole room on their feet out of respect for them. They started to break down a little. I don't think that anyone there could have been less than deeply moved. I certainly was."
Tiki Oasis '12 kicks off Thursday, August 16th with an evening outdoor party at the Bali Hai on Shelter Island. On Friday morning and for the remainder of the weekend, the exotic port of call will be the Hanalei (AKA the Crowne Plaza Hotel in Mission Valley's Hotel Circle). Visit www.tikioasis.com for the complete schedule. Mahalo!