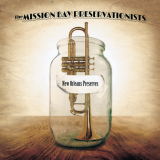 Let's get right to the point. New Orleans Preserves is a really good album. It's full of well chosen covers, with a trio of originals highlighting the album, which, as the title implies, harkens back to classic New Orleans sound of the 1920s to 1960s. Hot jazz, R&B, early rock 'n' roll, blues, touches of Dixieland, it's all here, brilliantly played and arranged.
What makes this all the more special, is that the musicians on New Orleans Preserves are all, save music director JP Balmat, students in the music program at Mission Bay High School. The album's ten songs were recorded on campus by the 12-piece combo, formerly the school's acclaimed Dixieland Jazz band. Gone are the vintage costumes, though their music will still appeal to Dixieland fans. The name change, however, opens their music up to a much wider audience, as well as allowing the band to stretch its musical boundaries a little.
The album's high point is a take on the classic "When My Dreamboat Comes Home," highlighted by a spirited vocal from Maile Saili and terrific, spirited backing from the band. It borders on early rock 'n' roll, with an excellent guitar break played by Brandon Cerquedo, as well as a twistin' rhythm that's custom-made for swing dancing. The album is full of standards such as "La Vie En Rose" and "Lil Liza Jane," but perhaps the song that showcases the group's love for the music of New Orleans is the closing, Balmat-penned "Come and See," which includes a bit of Toussaint-styled funk, led by Jessica Ryan's virtuoso piano. Indeed the musicianship is impressive all the way. Don't let the young age of the musicians involved throw you, this is top notch playing and this album will appeal to fans of any of the above mentioned genre's.
It's wonderful to hear today's generation helping to preserve yesterdays sounds, That said, while the album's sounds are as authentic as possible, due to the variety of sounds found inside, the album doesn't have a retro feel to
it. Proof positive that good music is timeless.