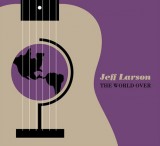 Jeff Larson may not be a superstar name, but he has an established career with at least 10 previous album releases since 1998, including House Concert, reviewed in the January Troubadour. He's deeply connected to a group of LA soft harmony-rock artists that include both members of '70s popsters America (Dewey Bunnell and Gary Beckley), who continue as a touring force. The Eagles Timothy Schmit's daughter Jedrah, studio ace Jeffrey Foskett also help on the disc, and Larson plays several types of guitars, harp, and keys. Topping off the slick project are contributions by Bob Brozman playing various exotic guitars and producer Hank Linderman, who has turned knobs for Eagles, among others.
The flawless gloss works on the ten original tunes primarily because Larson is both a top-notch singer and a writer who can flex to hit most of dots the California-harmony country rock genre map. Sure, this music sounds like its forebears and cousins, especially America, the Eagles, and lesser known bands like Venice. No problem, part of Larson's charm is to come up with rewarding melodies within this comfortable, familiar palette.
"Your Way Back Home" breaks ground with perfect harmonies, an easy-going pace, and guitars that float on air. There is more of a message to "Approaching Midnight," as Larson tells about meaning to write a distant partner, as the middle of a rainy night gives him time for reflection. The melody stands out, as does the arrangement, with Brozman's National Steel slide licks giving things an added edge. The band pulls out the stops for "Midhaven Getaway"; it rocks, it's catchy, and the layers of guitars complement the harmonies just right. "Monday Clouds Tuesday Rain" makes the America connection apparent, Larson's pop tale of lost love opportunities as metaphor for stormy weather (a theme in several of the tracks here) sounds like it could have been the B-side to "Sister Golden Hair."
The atmospheric "This Morning in Amsterdam" is the disc highlight, capturing an elusive, haunted vibe. A masterpiece of arrangement and execution, it transports the listener to a different musical and emotional locale, "Stepping in another world/ Nodding at the past/ The watchmen gaze and look away/ As if the die was cast".
Brozman's work with world music instruments help lift "Point of Rising," with the pounding percussion, sliding notes high and low over exotic Eastern-influenced melodies and Larson warning of the ominous state of the "twisted world" and humanity, "You wake the Phoenix from the flames." Whatever the message, musically this is yet another testimony to the genius of Ray Davies in 1965, recording the raga-inspired "See My Friends" with the Kinks; the music world has followed suit for nearly 50 years.
"In Time" is almost spellbindingly beautiful, a soft ballad over acoustic guitar, most of it Larson and Jedrah singing soaring harmonies, with Linderman weaving guitar figures in and out. It is another radio-ready, slam-dunk highlight.
The World Over has no weak tracks or filler and demonstrates Jeff Larson to be an artist to be reckoned with.