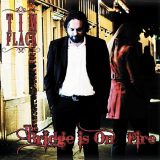 Since the turn of the century, Tim Flack has been a multi-talented part of the local alt-country/Americana scene. A talented photographer, his work with a camera captured otherwise underexposed local independent artists (see last month's Troubadour). An IT pro, he has produced videos and websites for local musicians. His networking with acts like Cathryn Beeks and Podunk Nowhere soon found him sitting in on guitar at gigs.
With The Bridge Is on Fire Flack steps forward as a singer/songwriter. Helping out on the ten-track project are Podunk Nowhere's Heather and Johnny Janiga (on backing vocals, and guitar respectively, Marcia Claire on bass, Brian "Nucci" Cantrell on drums, and others. Producer/mixer Sven Erik Seaholm plays guitar, sings, and as usual, gets the most out of everyone involved.
Flack isn't going to make a huge impression with his vocal power or range. He gets his music across by shifting gears from quiet, deeply sung ballads to folksy, spare guitar tunes, then to lushly layered country-rock; throughout, the backing vocals and instrumental arrangements supplement his voice and mask its limitations. Flack's messages come across loud and clear, though. These are relationship songs, most about failed or failing love.
The title tune sets this imagery up as Flack and his lost partner are on the opposite sides of a chasm, left behind, and there's no going back. No printed lyrics provided, but the prevailing anguish in "Bricks and Bones" doesn't need spelling out. To a smart finger-picked guitar figure, this highlight clicks as Flack sings "Please come save me/ Bricks and bones/ Pick up my lazy/ Bricks and Bones." "Love Too Easy" laments a relationship falling apart, a simple tune with everything in the studio thrown into its glossy arrangement.
Guitar power chords move "Soft Place to Land," along with great backing vocals by Heather Janiga and Cantrell's buildups. It's the only rocker here, but Flack pulls it off convincingly and it's memorable. Shifting to a keyboard ballad, he scores another disc highlight with "Broken Hearts and Sparks," lamenting a likely doomed effort to rekindle an old romance, "Broken hearts and sparks/ Searching for a flame/ To light that fire again/ To light up what remains." Listeners who like "Bricks and Bones" will love "This Old Guitar," which, save different lyrics and an added bridge, is identical to it.
Flack deserves some props for covering "Down in a Hole," an Alice in Chains dirge that he plays with just guitar and cello, conveying the depths of despair and notching another link in the thematic story of the disc. After affirming this with "Turning into Bones," a striking, floating message about fading away into loneliness, Flack closes matters with a cover of "To Be the One" by Ryan Adams. Or rather, yet another "Oops, I'm High" false start goof track. Tim, this isn't a Joe Walsh disc.
The Bridge Is on Fire is a musical photograph of Tim Flack, of interest to all local roots music fans.