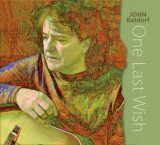 John Batdorf has roots that go back to the seventies, the golden age of California harmony country-rock. The Ohio native was still a kid when he came to LA and soon, as half of Batdorf and Rodney, had a major label record deal and toured with some decade's superstars. In the '80s and '90s, he did a bit of everything: staff songwriter, studio musician, producer, and writing scores for TV shows. He also released discs with Michael McLean, and continues to record and perform with McLean and others, including Mark Rodney and James Lee Stanley.
Batdorf has released several solo discs that draw on this depth of experience with acoustic pop, and the latest is One Last Wish. The dozen songs, all cowritten by Batdorf and McLean, are pristine examples of slick harmonies and catchy, layered melodies. Some tunes recall the heyday of Seals and Crofts (whom he used to open for with Rodney back in the day), yet Batdorf manages to put his own stamp on the sound as well.
There are no weak tracks. The opener is "Don't Give Up on Dreams," with some autobiographical lyrical hints in Batdorf's lyrics about "chasing that illusive dream career," the sound is a stacked-high cascade of mandolins and acoustic guitars, driven by perfect three-part harmonies. The rest of the disc follows suit, one of those ideal situations, a trifecta of memorable lyrics (online, at Batdorf's superb website) catchy musical themes, and perfect production.
"Real Life" tells about how careful plans can go awry, "I can't control in real life the way the story goes/ Cause in real life sometimes the girl says no." The vocals here (and elsewhere) soar à la Crosby, Stills & Nash and are infectiously catchy; in "Mama's Comin' Home Tonight" CS&N make an appearance in the lyrics, which are about getting things ready for mom's first night home from recovery. Batdorf has strong pipes that sound enough like the Eagles' Don Henley when cranked up to give the start of "Heaven Help Me" a bit of a "Doolin Dalton" flashback. "Can You Hear Me (I'm the One Who Cares)" is a highlight with a driving beat, sky high background vocals, and great dynamics. With the quiet, poetic "Forgotten" Batdorf succeeds with a soft folk-rock string ballad without being sappy, a potential problem for a less-seasoned pro.
The title tune is about reconciliation and righting wrongs with family and friends, and Batdorf delivers it in a memorable, rocking package with the most gusto of any track on the disc. There is a haunting, spacious echo in "Revolution" unheard elsewhere; it combines with a killer guitar lick and otherworldly harmonies to score another highlight about the upheaval currently been seen everywhere in the world. It is a testament to Batdorf's craft that this fully produced tune sounds like five or six background singers and a full band; nope, it's just him and a bassist.
One Last Wish will earn John Batdorf new fans. It makes for a great listen and a can't-miss for lovers of harmony rock.