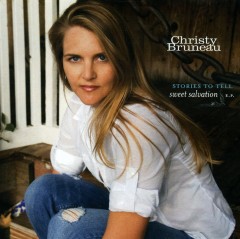 Stories to Tell/Sweet Salvation is the latest from local country/roots singer-songwriter Christy Bruneau. The four-track EP picks up where her award-nominated 2010 CD Somewhere in the Middle left off, with bright and compelling songs sung in a sweet but strong voice. There is a difference as well: the earlier disc rocked with plenty of loud guitar, and a country-rock crossover sound, while her new songs are much more acoustic and down home, with gospel and bluegrass influences. Bruneau made a wise move to work with local musician/studio whiz Jeff Berkley, and his work and that of stringed-instrument genius Dennis Caplinger enhance every track.
A good example is "Country Girl," which gives Bruneau a muscular guitar and banjo riff that she uses to get her cowgirl out and tell the listener she wants to ditch the concrete world, "What do you think about me now?" Next, she tells a personal story of romantic loss, doubts, change, and growth in "Don't Want to Lose My Way"; her betraying lover is gone and the memories aren't, but she and her little son are happy; she has taken control of her own truth. "Pray" finds Bruneau in good voice expressing her faith, a personal spirituality expressed in a haunting highlight. Berkley brings some of his Berkley Hart magic to this, the best song here. The rejoicing on "Spiritual," a country gospel-style tune that wraps the EP, is more conventionally religious, and rooted in a lengthy tradition; Bruneau's effort works.
This new EP frames Christy Bruneau's music in a very accessible and comfortable package, which spotlights her talents as a singer and writer.