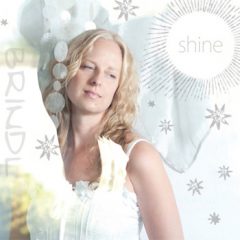 Brindl Markle, who goes by her first name, is a Bay Area singer-songwriter whose 2008 debut album, Acoustic Heart, was reviewed in the September 2008 issue of the San Diego Troubadour (which described her as "kind, funny, sassy, and understanding"). Her follow-up album, released in 2010, is Shine, a self-produced collection of 10 original songs on her own Moxy Music label. As with Acoustic Heart, Brindl's sultry, soulful vocals (reminiscent of Norah Jones, Patty Griffin, and Diana Krall, influenced by Joni Mitchell) shine through, bringing a bluesy, jazz-imbued flavor to the folk genre. Call it alt-folk or folk nouveau. Brindl accompanies herself simply but elegantly on piano and acoustic guitar, and for a richer sound on selected tracks adds Adam Roach on electric guitar, Steve Gardner on violin, and David Solari on bass. Studio veteran Solari also engineered, mixed, and mastered the album, which was recorded at A Room With a Vu in San Anselmo, California.
But with Brindl and Shine, the music is all about her voice, an enchanting vibrato reinforced by her own overdubbed harmony vocals and her thoughtful, honest songs, consisting of both romantic ballads (such as "Pink" and "Resolution Year") and deeper reflections on loss, love, hope, desire, and meaning. Her lyrics — always heartfelt — can be whimsical ("I would gladly take the stand/Raise my right hand/I will testify to the sea and the sky and the land"), wry ("We grow not older with the years, only newer every day"), mournful ("I'll be better when there's a break in this weather and I can find another day"), joyous ("Up high you're like a star in my sky and you shine, shine, shine"), and profound ("When I am gone look for me not under your boot soles/Let all my secrets be told in joyous song or whispered prose/Don't be fooled you are all you ever needed").
Brindl explains that "The theme that emerged from [Shine] seemed to be finding a consistent and deeper source of love beyond storylines and romantic narratives. Finding a broader way of experiencing love, more universal, more forgiving, more light-hearted." Shine is a fan-supported album, meaning that her followers underwrote the cost of producing and distributing it by making donations in advance. Brindl's goal in establishing the Moxy Music label was "to help empower other artists, especially women, to record and market their own music independently and effectivel.
Brindl's unique voice and captivating songs draw the listener in to her musical world, reminding us (from "Pink") that it is "Such a simple little thing/To stay open to all this world has to bring." Listening to Brindl is a joy. Ever eclectic, she is currently writing new songs on her ukulele and working on her next recording project. Aficionados of genre-bending female vocalists should become familiar with Brindl.