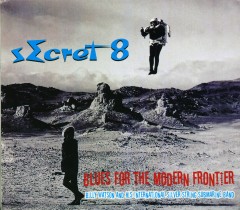 Fans of the local blues scene are familiar with Billy Watson, either as sideman for various artists (Robin Henkel, Mississippi Mudsharks, Billy Bacon and the Forbidden Pigs, and others) or as a front man of his own band, singing and playing harp with a group of interchangeable players, often including A-list players from other local blues bands. Since 1999 he has seemingly played everywhere with everybody, and has released eight of his own discs. The latest is Secret 8: Blues for the Modern Frontier, by Watson and his International Silver String Submarine Band.
His previous disc, Lucky #7, had an unusual amount of studio polish, with horns in spots and slick production. This was a departure for Watson, who returns to the basics on Secret 8. This is push the record button, seat of your pants blues music, which is probably the best way to capture Watson's unique musical personality and talent; it is raw, echo-filled and spontaneous. The eight tracks (six originals) feature a bare-bones quartet: backing Watson are guitarist Nathan James, bassist Troy Sandow, and drummer Walter Sluppick, and the disc was played and recorded in two days by James in May 2010 – as Watson calls it, a "fasty."
Listening to the tracks is like being a fly on the wall at a live studio session. All the tracks are in the key of E, the "people's key," which was good enough for Bo Diddley and suits the purpose here. On "Oh My Darlin'" the listener gets the first taste of Watson's wacky vocals, which are a unique blend of such roadhouse blues singers as Kim Wilson, Lee McBee, and Omar Kent Dykes – but with tongue firmly in cheek. The salaciousness of a blues combo lead singer is sent up, played for laughs by Watson in the moment that he does a pretty damn good job carrying it off. This seems to be Watson's gift: it's not really a wild man act if you sing this well.
The band gives him both a booming bottom and the clean, fundamental guitar lines needed for this kind of project, as on "I Told You So" and "Ice or Coal." On these and most other tracks, it is Watson the harp player that dominates song after song. On "Ice" he smokes the solo, then James gets some bars to impress with some licks of his own. Watson's harp playing, based on what is here, compares favorably with players like Steve Guyger, Rick Estrin (Nightcats front man), and Mitch Kashmar. He makes the bullet mike warble, scream, and wah-wah, has a tasty sustain and works all the riffs into his singing well. The showcases "Awp' Sorry" and "Retrograde Boogie" give him a chance to air out his harp. "Wolf Pack," like a number of other tracks, has a reverb-drenched vocal that features Watson giving his wolf howl, and figures to be a live favorite.
Secret 8 gets better with each listen, and for lovers of blues with no frills, it's a not-so-guilty pleasure.