BRENDA XU: For the Winter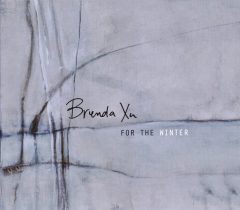 When Brenda Xu recorded her debut EP It's True in 2007, her sound was interesting, stripped-down pop blending her arresting, mixed-hot voice with various clever guitar hooks. This expanded to a full-band sound on 2009's A Little Illusion, a full length CD that mostly backed away from the riffs but included some nifty production touches and fully realized ballads. After relocating to Seattle, Xu is back with For the Winter.
It's a new EP and a new sound for Xu, seven tunes that consciously shoot for an ambient folk sound, submerging her vocals and many of the instruments in haunting echoes, with the goal often being a hypnotic drone effect rather than any edge. "Summer Song" opens, a perfect example, with Xu muffled in the midst of a repeated, plinking fingerpicked guitar mantra. It accomplishes ambience but largely wastes her vocal talent; "Light of the Moon" is better, as it starts small and builds big, using viola to good effect on bridges as she sings "I'll meet you in the night/ I'll meet you in the dark/ I'll meet you in the forest."
Xu and her Seattle crew certainly create atmosphere, maybe best heard on "Cold in Virginia," which features anguished pedal steel moans and soaring background vocal harmonies.