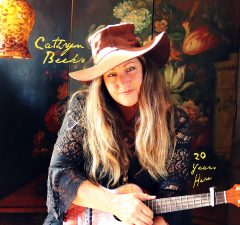 Aside from being a highly acclaimed singer-songwriter with multi-instrument abilities in her own right, Cathryn Beeks has been promoting, podcasting, and radio DJ-ing music into San Diegan hearts for the last two decades. If you are a San Diego musician or music lover there's a fair chance you've either played or attended one of her many events. If so, you probably also know how indebted we are to her for all she's done for the San Diego local music scene.
And now, how lucky we are to be graced with the gift of her latest compilation entitled 20 Years Here, a musical cornucopia filled with album content spanning her San Diego timeline of band projects, corresponding band photos, lyrics, Listen Local memories, solo material, and even short stories. Also included is a gorgeous collection of seven new songs recorded by Jeff Berkley and featuring the talented and tasteful playing of musicians Rick Nash and Josh Hermsmeier as well as Berkley himself.
20 Years Here is embodied with soul-bearing truth and feeling, an autobiographical tale so real that I feel impermanent upon each listen, as if the words and music travel through me like an ethereal pleasure-inducing drug. The tone is luxuriously warm and inviting, not unlike cashmere blankets, heavy pours of Balvenie, and roaring fireplaces on cold winter nights.
Berkley proves yet again his knack for the engineer/producer role here, while simultaneously slaying it on guitar. His solos and licks are so perfectly placed and played it's almost maddening how good it sounds. I can't help but sense glorious Phil Wandscher grooves of Whiskeytown days and, more recently, Jesse Skyes and the Sweet Hereafter.
Cathryn Beeks, who possesses a voice full of seemingly infinite harmonic possibilities, nothing short of SHINES on these tracks. Her voice veers from sweet singer-songwriter Indigo Girls/Shawn Colvin to rockin' Chris Robinson/Chris Cornel vibes. Meanwhile, her lyrics pummel with poetic precision—and with heartbreaking authenticity. It feels naked and alive.
A particular song that I can't shake from my head is "Hey Dessert" (even typing the title of the song gives me goosebumps all over again!). There's palpable love here, but an underlying sadness that tugs at your heart even with beautiful lines, such as this in the final verse: "Hey desert, good to see you again / You wrap around me, kiss my skin / Your hot wind it blows through my veins / I knew I'd return to you one day…/ Hey Mom, I'm coming home."
In summation, 20 Years Here is a time-capsule worth diving into. And dive in deep when you do. The vibe is real, and it's REAL good.