THE TOURMALINERS: Surfidia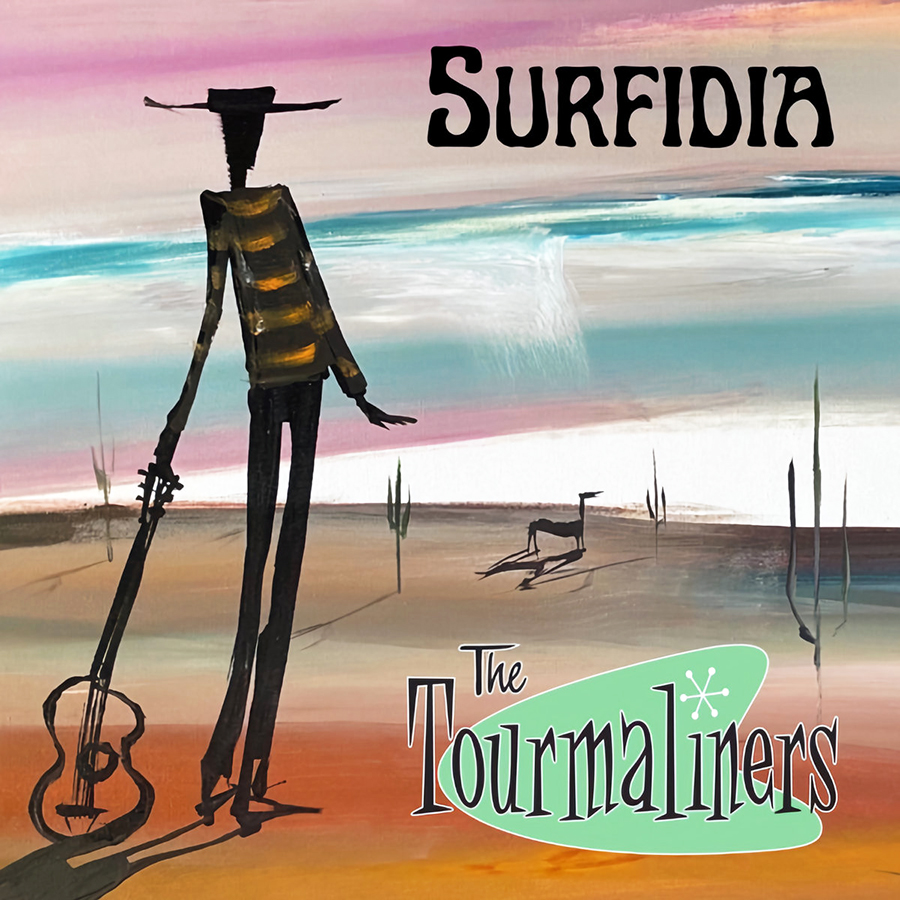 Surfidia is the latest album release from the Tourmaliners on Sharawaji Records, published by Pacific Records. All 14 original tracks will take you on a nostalgic trip back to the early 1960s heyday of instrumental surf tunes, an era when the Chantays, Ventures, Sufaris, and Pyramids blanketed the AM radio airwaves across the land.
Formed in 2018, the Tourmaliners are Deven Berryhill and Joe Dameron on guitars, Matt Clowminzer on bass, Ina Soliz on keyboards, and John Macelwee on drums, providing a modern take on surf-tune templates with guitars appropriately drenched with spring reverb amid the creative melodic motifs that accurately captures the neo-surf vibe. However, make no mistake about it, these are their own tunes with a distinct compositional personality, all penned by Berryhill and Clowminzer, who also produced the recording.
The waves crash in on the opening uptempo track, "Grimace," with a robust chromatic note melody ornamented by classic Farfisa organ tones from Soliz, intertwined with classic low-end Duane Eddy guitar fills. Former Tom Petty bassist, Ron Blair, sits in on "Voyage to Mars," blasting off with a familiar ignition akin to the long-ago number one hit "Telstar" by the Tornados. Immediate attention is drawn to Macelwee's spot on drum accompaniment and dynamic fills that fuel the band energy here and throughout the entire album.
Berryhill rocks out on lead guitar on "Tourmaliner Twist" leaving no doubt he's got chops way beyond obligatory surf licks. Joey Dee would be chomping at the bit to add lyrics to this track. Berryhill additionally showcases some dazzling tremolo picking guitar phrases throughout the intricate melody on "Close Out" before sharing the stage with Los Straitjackets' guitarist, Eddie Angel, on "Swanky," offering us a plethora of mellifluous guitar licks from both.
Bob Spalding, guitarist for the Ventures, joins the fray on "Giant Dipper," with a subliminal chordal message to "walk don't run" to the ticket booth. Spalding's fluid guitar lines ebb and flow in tandem with happy screams from the children riding the rollercoaster's undulating swoops and turns.
A bevy of eclectic rhythms permeate throughout the album with clever melodies attached to them as in the tango/bolero flavored backdrops on "Con Permiso," "Tiki Woodbridge," and "Picante," in addition to the Spaghetti Western format on "Coyote."
There's the playful novelty twists from surf chord templates on "Loco Moco," where we hear the spoken words of the title intercede, harkening back to its spoken word predecessor. "Tequila." Also the title track, "Surfidia," gives a wink and a nod to Alberto Dominguez' "Perfidia," carefully avoiding any too obvious melody similarities while playing it in the more traditional 12/8 time doo wop backdrop.
Equally entertaining is the track "Starshine" where the band shifts back and forth from a reggae rhythm to a ska rhythm behind the ever-present guitar melodies, a track perfectly fit for a detective television show's opening theme. On "Santiago" you can hear the waves gently rolling in on the Hawaiian shores with patched in steel guitar harmonies painting images of a festive luau.
Surfidia is a winner from start to finish. The band is tight with nobody overplaying but playing their parts precisely to simulate a musical era that any audience can enjoy. Dameron, Soliz and Clowminzer never waver from their rhythm section duties as Berryhill shines brilliantly on lead guitar melodies and solos with just the right reverbs, flawless tremolo picking and tremolo bar embellishments that color he and Clowminzer's unique variety of melodies…check it out, you won't be disappointed!