THE SURE FIRE SOUL ENSEMBLE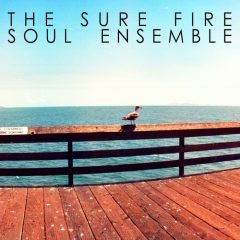 …And now for something completely different: an instrumental soul/funk band that records its songs on seven-inch, 45 RPM vinyl — and makes music that more than anything else plays like the soundtrack to wordless movie tour of San Diego's neighborhoods. The Sure Fire Soul Ensemble seem to be onto something on their self-titled debut CD (also offered in 180 gram vinyl), which features the nine-piece group playing a dozen songs that seem to have their roots in funk sources as various as Booker T and MGs, Isaac Hayes, and (even more so) the groove-heavy sound of the Meters and Aftrobeat specialists Antibalas.
They are headed up by keyboardist Tim Felten, who produced the new album of originals, mostly written by band members. While most of the music utilizes tight horn charts and organ as the lead voices, the drums by Peter "Dee" Williams, congas percussion by Kiko Cornejo Jr., and shekere by Sheryll Pasis are really the stars of this show, laying down the framework for each excursion, built upon first by Matt LaBarber's bass lines. The textures are further defined by Nick Costa's guitar with choppy chords or funky riff lines. Bill Caballerro's trumpet and flugelhorn, Jesse Audelo's or Chris Lea's sax or flute, are often heard in unison or trading the spotlight with Felten. The songs each have definite hooks but they are all similar in being about 31/2 minutes long with short solos, if any at all; the band lays down the musical idea and groove, then gets out of the way before wearing out their welcome. And the tunes fit on one side of a seven-inch 45.
They get down to business on "Layin' Low," one of the singles, which has a wicked organ and guitar dropdown hook on the bridges and steamy funk beat. A few bars of soloing by Felten and Caballero are flashed, but this one is all about the groove. "City Heights" is next on the program, a similar piece that doesn't change the beat or sound much. No harm, no foul: it is still a strong track. For "Lane Changes," a Hayes-vibe guitar/bass riff launches the tune before excellent, surprising fusion-style keys and horns descend, giving this highlight a funk urgency.
"Funky River" has a different feel than many of the other tunes, there is less of an Afrobeat percussion feel, while it colors within the lines of a standard funk exercise, giving Felten's solo a taste of vintage Booker T. The groove from earlier tracks is back on board for "The Blvd" as again the unison playing conveys hustle and bustle, while Audelo steps up for a short but nifty solo. "Sweltering Heights" gives Costa a chance to come up front, where he is joined by Caballero for some serious funk, before "Passing Clouds" finds the band settling back into an organ-dominated, cruising speed number.
The Sure Fire Soul Ensemble give fans of instrumental funk many different glimpses of their fascinating sound on their debut album.