SURE FIRE SOUL ENSEMBLE: Step Down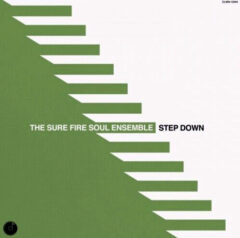 Step Down is the latest CD drop from the Sure Fire Soul Ensemble, ten tracks of original instrumentals on the Colemine Records label, led by keyboardist Tim Felton along with Omar Lopez, bass; Jake Najor, drums; Kiko Cornejo Jr., congas; Sheryll Felton, percussion; Lito Magana Jr., guitar; Travis Klein, tenor sax, trumpet, flute; Jesse Audelo, sax, flute; and Wili Fleming; trombone and mandolin.
Many of the tracks represent the authentic sound of the "soul jazz" era from the 1960s and '70s, pioneered by Lee Morgan, Jimmy Smith, and Eddie Harris funneling into the Meters; James Brown; and Isaac Hayes, earmarked by melodies and improvs over static chordal patterns, ostinato bass figures, and unobtrusive legato horn section harmonies. The result is a successful project of compositions that state succinctly the essence of true soul grooves.
The title track, "Step Down," and "Time to Rebuild" features smooth flute solos from Audelo and Klein respectively over the repetitive rhythm section riffs reminiscent of jazz flutist Herbie Mann's Memphis Underground. Magana Jr.'s guitar is highlighted on "The Other Side" and "Love Age" with some added wah-wah and melodic octave licks. All four of these tightly arranged tunes have the perfect hooks for a television drama's opening theme music.
The band takes a much anticipated turn and starts to cook, commencing with "Omnificent," a haunting outside-the-box melody played by Audelo on sax, which stretches into some down and dirty soloing from his horn, followed by "Boardwalk" with Felton busting out on keys, backed by the funky syncopated interplay between Magana Jr. and Najor on guitar and drums respectively, setting up an overall band groove right out of the Tower of Power playbook.
Fleming gets turned loose on a soulful trombone solo on "Gandys," bolstered by more syncopated rhythmic grooves from the ensemble segueing conveniently into "High Times," which places Najor front and center as he struts his stuff behind the drum kit in a funky interplay with the rest of the rhythm section. "In Common" turns up the heat with a super funky groove anchored by Magana Jr.'s syncopated double stop guitar pattern, à la Jimmy Nolen, blended in with an infectious melody riff intertwined with fiery conga and percussion work.
"Thomas the Cat," a minor-key funk rocker, concludes the CD with some heavy guitar riffs and a smokin' tenor sax solo from Klein that puts an exclamation point on a soulful disc that is not only an enjoyable listen but also provides infectious grooves that make you want to hit the dance floor from the first downbeat to the closing coda.