SECOND DELIVERY: Acoustic Express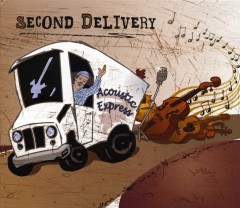 The local bluegrass scene has long featured a certain amount of interchangeable parts — musicians simultaneously in several bands, bands with a number of backup musicians in the instrumental slots, and a general sense of community. Second Delivery was a quartet of local bluegrass veterans who had played with Shawn Rohlf's Buskers, then formed their own group. Ramona Ault (guitar/vocals), Beth Mosko (fiddle/guitar/vocals), Marke Foxworthy (guitar, banjo, dobro, vocals), and Troubadour columnist Dwight Worden (bass/vocals) played together for nearly four years before two members' 2010 relocation out of state. Lucky for bluegrass fans, that wasn't before they went into Rohlf's studio and recorded Acoustic Express.
The 12 tracks mix four covers with originals (most by Ault and Mosko) that feature a mix of homespun charm with traditional bluegrass themes, expertly played with just enough of a modern touch. The opener, Foxworthy's "Black and White," is a catchy country swing number with sharp harmonies by Ault and Mosko, and plenty of dobro and fiddle; it steps away from bluegrass as sort of a pop message tune about keeping an open mind and accepting each other. Closer to the traditional bluegrass vein "Ain't No Ash Will Burn" is a Walt Aldridge tune, a slow waltz is sung with conviction by Ault. Even better is a cover of "Where Corn Don't Grow," with banjo and guitar leading the way as Ault sings Travis Tritt's song about how "Hard times are real/There's dusty fields no matter where you go." The best cover on the disc, it shows how the best bluegrass conveys the life and relationships of people who live in the open spaces, working the land.
Martha Scanlan's "Little Bird of Heaven" becomes a lively reel, with Worden's bass pulse and Mosko's fiddling weaving around Ault's sweet vocals. She sings about heartbreak in her "Restless Heart," and — like elsewhere on the disc — her harmonies with Mosko blend perfectly and match the feeling of the tunes. The band is at its most rustic with "I'm Blue, I'm Lonesome," by patron saints Hank Williams and Bill Monroe, as Foxworthy does some lead vocals, and there are four-part harmonies; it is a slice of old-fashioned country bluegrass life. Foxworthy is in fine form throughout, and he turns "My Heart Found a Home" into an ear-catcher, stretching out on the banjo. Two of Mosko's songs stand out for their lilting harmonies; "Stone and Grass" has an infectious melody, while "Runaway" is entirely sung in harmony by Mosko and Ault. This memorable tune is about being on the road, leaving an old life behind for the uncertainty and dread of a new one.
Ault and Worden still play in local projects, including Gone Tomorrow and together in Prairie Sky, while Foxworthy and Mosko moved to Fort Collins, Colorado. What Acoustic Express does best is capture, like a time capsule, the fleeting sound of four good bluegrass pros, blending their talents at the top of their game.