SAN DIEGO TROUBADOUR: 10th Anniversary Compilation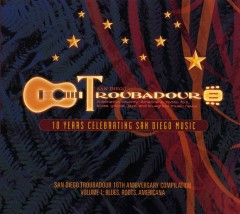 Attention, Troubadour readers who missed the recent 10th Anniversary Concert or haven't had opportunity to attend the legendary holiday fests or CanyonFolk parties that pull together so many diverse top local musicians for live performances and impromptu jams. And also anyone who did make it who enjoys great roots music. The San Diego Troubadour 10th Anniversary Compilation is available for sale a few clicks away on the Troubadour website (https://sandiegotroubadour.com/store/), an excellent album that offers many glimpses of great local players and their music; it's like attending a house party by just playing your disc player.
Volume One: Blues, Roots, Americana contains 22 tunes by 22 talented artists that cover a dazzling array of musical styles (a second volume with more jazzy and pop music is in the works). This generous compilation would not have been possible without the songs donated by local singer-songwriters, assembled as originally recorded. Thanks go out to them.
The sounds move from the traditional folk represented by Chris Clarke's reading of the standard "East Virginia Blues" to other soft folk tunes, like Tom Brousseau (with Angela Correa) smoothly harmonizing on "Wandering" and Carlos Olmeda's "Dear Anna." The sound heads for the hills, fiddles, and banjos with the bluegrass of Chris Stuart & Backcountry's lively highlight "Crooked Man," Tim Flannery's "Travelin' Shoes," and Shawn Rohlf and the Day Buskers' fascinating original "Sky Ain't Soft," for sure a competitor for wackiest song here.
The country-flavored Americana includes Barbara Nesbitt's rousing country-rock "Come to Find Out," and Sara Petite's much softer, personal "Souvenirs." Peter Bolland's "Into the Mystery" has an Eagles vibe, and Joel Rafael gives a nod to Dylan with his "Reluctant Angel." The haunting harmonies of Trails and Rails give the Sons of the Pioneers' "Blue Prairie" a nice old-school reading. Fans of Berkley Hart will instantly recognize the sound on their contribution, "Sink or Swim."
Soft ballads are here; Lisa Sanders infuses "Tell Me Daddy" with soulful feeling, Peggy Watson does the same to cast a spell with "Nothing's Gonna Happen," and "Final Note" by the Flimz is another tune in this vein, with touches of strings and clarinet that make it especially memorable. Going a step further is Gregory Page with "The Ghost with Sad Eyes," with his trademark art-deco style crooning and '30s-style band.
Ah, the blues. Steve White gets down with acoustic guitar, harp, and a furious beat for the story of "Chickenbone Express". and Billy Watson's "Black Panther Blues" is a boogie with pounding blues piano, and his incisive harp leading the way. "Walk with Your Maker" gives Nathan James a chance to show his impressive oats on acoustic slide guitar, he can p-l-a-y. Robin Henkel's contribution is the only instrumental, "Mahtochiquala," as he plays rings around a Hawai'ian style lap steel guitar. A fixture at the house concerts has been Jeffrey Joe Morin, and he often plays his lyrical tour de force "Big Red Lips"; here it is.
This sampler of San Diego's music scene is a rare opportunity to hear this much different music, all this good. It's not to be missed.