RON STEVEN HOUSTON: The Streets of West Monroe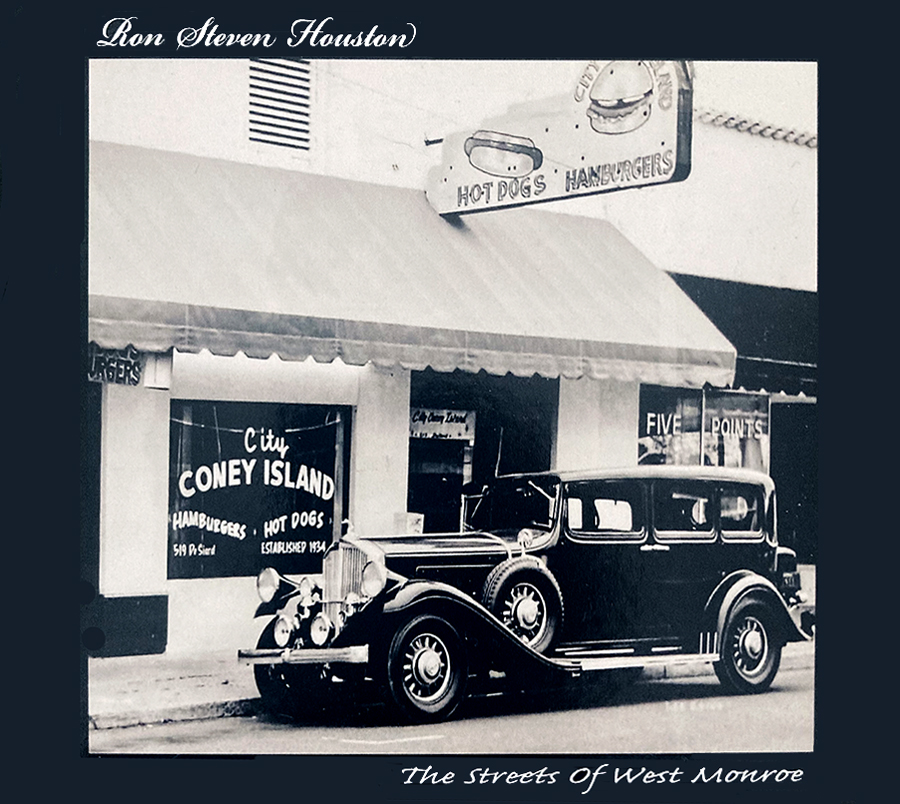 The Streets of West Monroe is the second CD drop from singer/songwriter/guitarist Ron Steven Houston, a follow-up to his 2021 debut album A Long Road Home. Once again recorded and mixed superbly by Jeff Berkley at his Ohm Grown Studio in Oceanside, California, the 12-track album, all originals and two covers, takes us on a personal storytelling journey back in time to the roots of Houston's formative years growing up in West Monroe, Louisiana. It's an album filled with nostalgia, regrets, and redemption.
Fittingly enough the opening track, "Just an Empty Bottle," is played in what's known as the saddest musical key, D minor, against a one-man orchestra provided by the late Dennis Caplinger on banjo, fiddle, and dobro as a backdrop to Houston's opening vocal: "just an old empty bottle, it's staring back at me." The cry-in-your-beer tune "My Drinkin' Ways" continues along the same theme: "sitting in a bar in Louisiana…trying to drink my life away," while bringing aboard the rest of the band throughout most all of the tracks, led by Berkley's tasty guitar licks, Sharon Whyte's rich organ chordal accompaniment à la Procol Harum, the steady rhythm section of Jason Littlefield on bass, Josh Hermsmeier on drums, and the omnipresent supportive background voices of Cathryn Beeks and Chaska Potter. The upbeat "Keep on Drinkin'" is fueled by Caplinger's smooth-as-silk dobro and fiddle phrases behind Houston's muse: "I drink too much down in Texas…I drink too much in Tennessee."
There are stories along the way of those Houston has met in his travels as in "Reverend John," about a homeless man who played a harmonica while sitting alongside Houston when he'd be writing his songs on guitar. The tune is set behind Caplinger's droning banjo motif, cascading vocal harmonies from Beeks and Potter along with melancholy riffs from Calman Hart on harmonica. Also "Moonshine (slight return)," a narrative about the legendary moonshiner Popcorn Sutton, which features the dulcet accompaniment from veteran pedal steel man, Doug Pettibone, and "Life and Death of Sam Dupree," a reflective look back on one man's plight. "When I look back, that could have been me." The upbeat "My Old 8 Tracks" reflects back nostalgically. "Me and my friends, we always had good times…smokin' weed and drinkin' beer…girls that looked so fine."
The powerful rock ballad, "I Don't Know," puts Berkley's lead guitar prowess front and center along with the strong presence of the background voices to Houston's defiant lyrics: "ain't no going back, no turning around…and I'm not really sure I ever really wanted to be found." The two-stepping tune "I Like Merle Haggard" lightens up the mood, in the mold of "Okie from Muskogee." "I like Merle Haggard and I like to get stoned…I used to like making love, but now I'm too damn old," in addition to a foot-stomping cover of the sing-along classic, "The Crawdad Song," highlighted by Clinton Davis on banjo and Marcia Claire on vocals both crashing the party.
The curtain closes with "One More Round," a tender country waltz, a final retrospection of life back on the streets of West Monroe, Louisiana with a somber closing narrative. "Every time I put the bottle down…life walks up and buys me one more round." Houston's story and lyrical musings are worth a listen, particularly with the superlative musicians and arrangements backing him up throughout each track.