ROBERT BONDURANT: Still Standing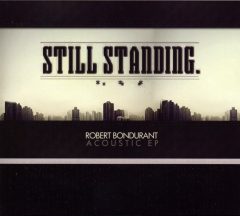 Robert Bondurant is a 23-year-old native of La Mesa whose musical inspiration is John Mayer. Although Bondurant is primarily an electric guitar player, and occasionally performs as a trio, the five songs contained on Still Standing (all original compositions) feature him solo on an acoustic guitar, a craft he has been honing in frequent club appearances throughout San Diego. Bondurant's genre is alternative/ indie, and his pleasing vocals and catchy guitar riffs definitely show the influence of Mayer.
The opening track, "Save Me," is a song about love and desire. The inventive melody contrasts with the simple lyrics ("I've been waiting alone with this fire burning so long"). My favorite track is "Through Her Eyes," about the importance of a mother's devotion throughout a child's life. The lyrics are poignant and the beat is both complex and lively. (Bondurant is accompanied by co-producer Jesse Johnson on piano.)
"Blue and Yellow" and "Battle" both display Bondurant's guitar prowess and vocal range.
"It Was You" is a sweet romantic ballad, with Johnson contributing piano and harmony vocals.
Bondurant is an earnest young man whose wistful lyrics and listenable tunes show promise as a songwriter and performer. He has been working for the past year and a half on a fully produced debut album, and describes this EP as "just a teaser for people to become familiar with [him]." As a teaser, Still Standing succeeds, and leaves the listener hungry for a taste of the "big record" that will be released in a few months.