Parker Ainsworth: Gone And Done It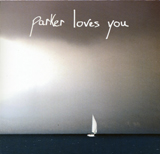 Parker Ainsworth is a folk balladeer, originally from Austin. He moved his guitar and muse out West and has been playing in SoCal for several years. In mid 2009, he put together a five-track debut EP, Parker Loves You, and it has been re-released. The songs are a series of originals that spotlight Ainsworth's considerable strengths as a folk and pop craftsman.
'Awake' makes a solid impression, with finger-picked guitars underneath Ainsworth singing effective lyrics (not included) about rising next to a lover in the morning; it has a female harmony on the choruses, and crying pedal steel echoes. Ainsworth changes things up on 'Hope You Understand,' a quirky pop keyboard tune that seems to be in an uncomfortable key for him. 'Rain…' is better, with a mid-tempo hook that gathers steam, simple but effective. The best track is 'We Just Forgot,' about how we are all angels made to fly, but we have just misplaced our halos and forgot how to use our wings. The song zips forward with a hum-along melody and positive-vibe energy. Ainsworth moves back into a folk mode with 'Higher Up,' as the studio band creates a keyboard and steel guitar cloud for his voice to float upon, and he is mixed front and center to tell about how 'There are so many more steps until the top/ And so we both surrender to a picture of higher up.' Ethereal message, ethereal music to deliver it.
Parker Loves You scores enough points to create anticipation for what Ainsworth Parker may have in mind for a follow-up.