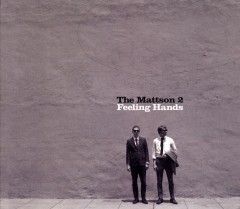 Follow the boundaries of each out to the edge, and at a certain point surf music will intersect with jazz. The Mattson 2 is an interesting duo with a sound that tries to land in this illusive zone. The two are twins Jared Mattson on guitar, bass, and keyboards, and brother Jonathan, drummer/ percussionist. The Northern Californians supplement their unusual sound with horns, strings, and synths on Feeling Hands, their debut full-length disc, with 10 original instrumentals that just don't sound like the music being played by other bands.
Jonathan starts out "Pleasure Point" with aggressive surf drums, and Jared joins in with his choppy, staccato runs for what is basically a 2011 update on anthems that go back through "Wipeout" to "Walk Don't Run." "Black Rain" follows, again with pipeline-style drums, but transcends the surf form with a dense arrangement (lots of keyboards, pedal steel, vibraphones, horns), creating a wall of sound that will crop up elsewhere on the disc. For "Ode to Lou," the listener isn't at the beach anymore; this is a smooth, keyboard-propelled jazz groove, with Jared's jagged guitar licks providing a fascinating counterpoint. Most music like this is executed by a player who has sanded the edges off his technique, but Jared has the licks, and his unique and different style breathes life into the tune. A similar approach yields a definite highlight with "Spaceman 2," as catchy guitar melodies are carved out on top of glistening keys, airy chords, and strings. The dynamics, heavier guitar accents, and song structure on this one shows that the guys have a definite sound in mind, and it's not surf.
"Mexican Synth" is another track that gathers steam, taking jazzy licks by Jared, then adding a hypnotic, orchestral storm of sound that seems to swirl around and around for what is the disc's strongest track. The next two tunes feature record label-mates in guest spots: "Chi Nine" has some lurches in its beat and a busy guitar solo by Ray Barbee; it may be the only spot on the disc where the meld of surf and jazz sounds awkward. "Give Inski's" does little other than frame a brief bass solo by Tommy Guerrero.
No worries, it's back to business with "Obvious Crutch," a winner that features some of Jared's best work, a nifty surf riff that resolves into thrashing chords and back into its Ventures-influenced melody again and again. The wall of sound returns to give some added oomph to "Man From Amamnesis." Sort of the disc's magnum opus, this song may be the answer to what would happen if Brian Wilson had done one of his "California Girls"-style treatments to what is basically otherwise a minimalist surf tune. Huge drums by Jonathan, often buried in the murky mix on other big sound tunes here, make a real impression on this one.
    Feeling Hands shows the Mattson 2 succeeding in capturing a unique sound, and it gets better with repeat plays. They take surf instrumentals to new places, while making some jazz statements not heard previously.