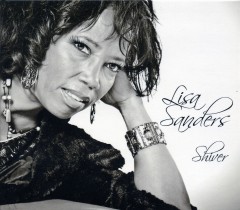 Lisa Sanders has performed in our town's coffeehouses and musical showcases for well over a decade, and I defy anybody to listen to her and not fall in love with her voice. Simply put, Lisa Sanders sings like nobody's business. The singer/songwriter possesses grace, clarity, and strength, and she knows how to use all of those assets like a total pro. With her agility and use of dynamics — sometimes bringing her voice down to almost a whisper, sometimes raising the rafters with all the volume she can muster — she has the perfect gift that all singer/songwriters strive for, conveying all the meaning and emotion that can be evoked from a lyric. It is impossible to listen to Sanders and not be moved.
Sanders has just released Shiver, 11 tunes that display all of her creative abilities: singing, writing engaging and enjoyable songs, and collecting the musicians and other technicians to produce a noteworthy CD. Shiver may very well display Sanders at the height of her talents.
From the beginning to end of Shiver, Sanders sings of the dizzying joys and the crushing agony that love can bring, and it is all that love and life can bring us: our lovers, our parents, and our children. Opening the disk with a light country tinged shuffle, "That's How I Feel About You," Sanders sings breezily of romantic love in its most uncomplicated and innocent state, when everything is "strawberry cream and apple pie." "Stars" is a similar song, where love makes Sanders' "dreams all come true."
In "Crazy For You," a mid-tempo number with heavier rock beat, and "Shiver" Sanders explores the passions of love. "Shiver" is notable. Sanders sings quietly of a long series of experiences–marching for civil rights, making a dramatic rescue in a burning building–letting the listener know that she's been around the block more than once, yet her heart can still be as open and earnest as a teenager's when it comes to love.
Romantic love can lead to families, and Sanders offers up the complicated love that comes with parents and parenthood. "Tell Me Daddy" describes a father worn and failing with drink who is nonetheless beseeched as a source of guidance. And all the angst of raising a teen is summed up as Sanders sings, quite rawly and revealingly I might add, the song "Pride and Joy."
All the songs have a pop/rock sensibility that has floated around since the seventies, with mid-rock tempos and standard arrangements. Sanders assembled a talented crew for this project, too many to list here, but I will say that Jeff Berkley, besides doing an excellent job of recording and mixing the CD, adds some pitch perfect guitar work, with a Telecaster through a Fender Twin Reverb sound. He's got that classic sound, yet his playing is constantly fresh. How does he do that? He guitar work adds liveliness to all of the tunes on this recording.