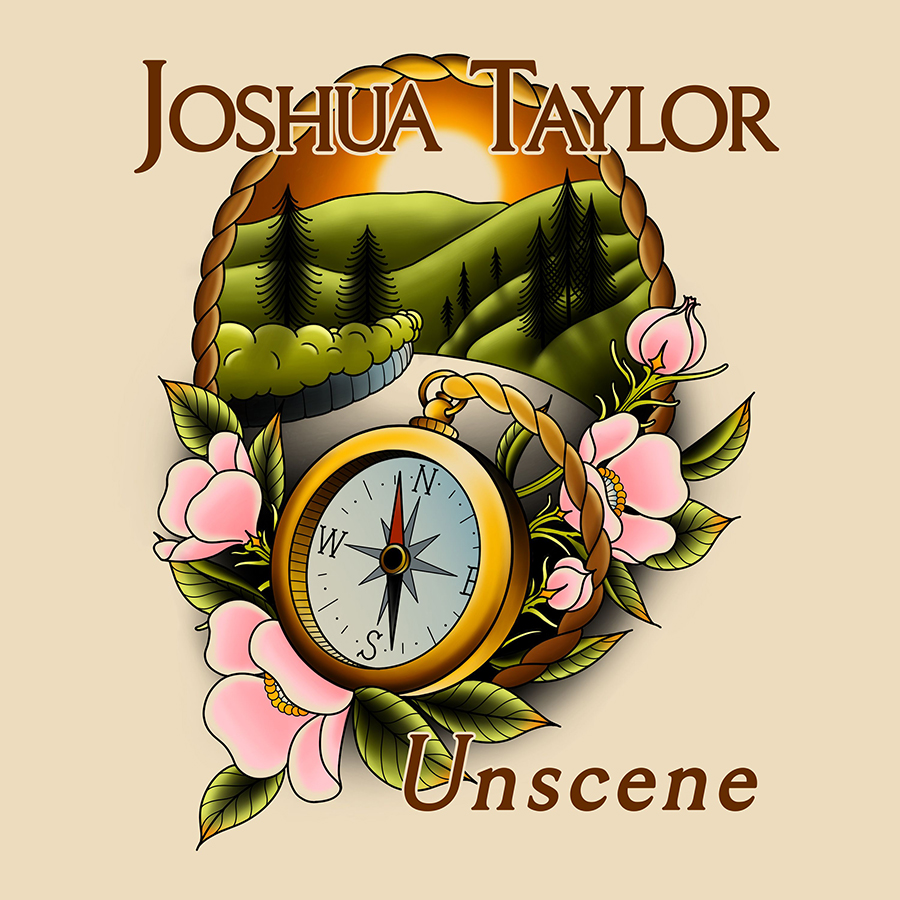 Unscene is the second Cd offering from singer-songwriter-guitarist Joshua Taylor, following his 2015 self-released About Time. Unscene contains eight tracks of original tunes that will captivate you from start to finish. The arrangements are crisp and well thought out with dynamic vocal choruses following Taylor's lyrical verses, all a perfect formula for commercial airplay. His vocal dynamics provide a mesmerizing lure throughout, akin to the vocal stylings of noted song meisters John Mayer, Lyle Lovett, and Tom Petty. It's Americana pop/rock at its best. Recorded at Studio West in San Diego by Sven-Erik Seaholm and Andy Walsh and bolstered by added production and recording at Satellite Studio by Jeff Berkley, Taylor is backed by a stellar cast of musicians including Sam Hunt, electric guitar; Harley Magsino, bass; John Perkins, drums; Josh Weinstein, keyboards; and Taylor's wife, Sandi King, on backing vocals.
The opening track, "Begging to Fall," grabs your attention right away, a straight-ahead radio friendly rocker, ornamented by powerhouse backing vocals from King and guest vocalist Lauren Leigh with Taylor proving he's no slouch on guitar with a tasty melodic solo in between his lyrics, "this house is begging to fall…waiting for the wrecking ball."
"Cars Don't Run Forever," another rocker, features Hunt's perfectly phrased guitar solo amid Taylor's musing, "on a freeway drive…I'm free and alive." "Reckless Kind of Love" lays down a funky guitar groove, a la "Funk #49," with rhythmic band interplay that would make Tower of Power smile, augmented by a killer organ solo from Weinstein and blistering guitar exchanges between Taylor and Hunt.
Taylor displays his songwriting diversity on two back-to-back ballads. "She (You)," has some dark reflections, "you got a way of making me pay…for the shovel while you put me in the ground," and on "Run Amy Run," "don't look back and don't trust anyone," layered by Taylor's melodically textured acoustic guitar solo blended with guest pedal steel guitarist Ted Stern's lush chording.
1980s-flavored rocker, "Hideout," is nicely supported by Perkins' syncopated drum chops amid Taylor's lyric, "don't you just love it when I fall…ain't it funny how I stumble." The haunting minor key tune, "On and On" is set behind a repetitive, ominous looping motif behind Taylor's prominent lyric: "most of what I've done won't leave me alone…goes on and on," climaxing into a powerful vocal chorus interplay with King.
Taylor's closing track, "Time Gone By," illuminates his vocal prowess shining soulfully over the band's back-beat groove and culminating with his guitar solo gliding effortlessly over a series of colorful chord changes betwixt a glimpse of lyrical optimism: "wondering what might have been…if I hadn't won your heart." And on that note, this CD will win your heart upon first listening and beyond with so many catchy vocal choruses that will make you sing along after many repeat listens!
Joshua Taylor's CD release, which includes Jeff Berkley and the Banned, will happen on Tuesday, December 20, 8:30pm at the Casbah, 2501 Kettner Blvd.,