JEFF BERTINO & MIKE STUBBLEFIELD: Gotta Travel On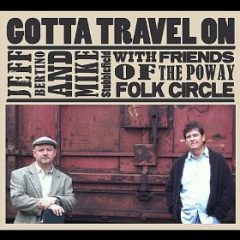 Jeff and Mike have for some time been among the leading forces in the Poway Folk Circle. Their music comes out of a country and folk tradition that goes back to 1930s' groups like the Delmore Brothers, Blue Sky Boys, and on through the Louvins, the Everly Brothers, and even a contemporary mix thrown in. The songs range from Darby and Tarlton's "Columbia Stockade Blues," the Carter Family's "My Texas Girl," and into the '40s with Merle Travis' "I Am a Pilgrim" and bluesman Jesse Fuller's "The Monkey and the Engineer." There's Woody Guthrie's version of "Danville Girl" and the old traditional "More Pretty Girls than One" and more, including modern Bob Dylan, Paul Clayton, John Starling, and Ken Graydon songs that Jeff and Mike give an old timey sound to.
This is sort of a gentle and layed back listening experience. Jeff and Mike are joined by a grouping of local stalwart backup musicians, including Dane Terry on the mouth harp and Harry Mestyanek's mandolin, Alicia Previn's fiddle, Greg Rivers' five-string banjo, and a trio of string bass players (Lance Gucwa, Pete Harrison, and Rich Rinaldi) but it's the two guitars of Mike and Jeff that provide most of the backup with the others only filling in where needed.
Jeff sings the tenor lead parts on most of the vocals, with Mike singing a baritone harmony. Throughout the disc the moods of each song blend into the next, making for a memorable listening experience. Fans of old-time country harmonies with a light lilt will want to have this disc in their collection and anyone who isn't familiar with the style, this is a good place to start.
The cover shows the gentlemen involved sitting arpund the old Poway train station "Waitin' for a Train" (although that song isn't on the CD. Other than the songs mentional above there are fine versons of "The Old Home Place," "Dark Hollow," "He rode All the Way to Texas," "Wagon Wheel," "House of the Rising Sun," "Blue Wing," "I Don't Want Your Rambling Letters," "Don't This Road Look Rough and Rocky," "Gotta Travel On," and "Three Quarter Time."
One of the best ways to get a copy of this is to visit the Poway Folk Circle. That way you'll most likely hear Jeff and Mike in person and a lot of other good musical folks as well. You won't be sorry.