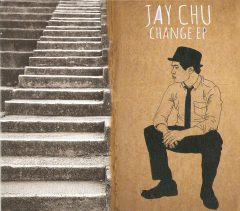 Originally from New Jersey, Jay Chu is both an engineer and musician, and a passion to be at the top of both games. Since relocating to San Diego he has been writing his indie pop music, playing the coffee houses, setting up a website, and recording his debut EP, Change.
The disc is a nicely recorded five-track sampler of originals. While his music lands in the same territory as artists like Jason Mraz, Chu not only backs himself on acoustic guitar, like numerous other singer/songwriters, but also handles electric guitar, violin, and piano. The songs are full of first-person lyrics often resembling self-help lectures, wrapped in lavishly produced, hook-heavy pop envelopes.
Chu kicks off with "Dead End," which is typical of his sound: start small with pounding piano, building with synth strings and harmonies to gradually flesh out his song about inner struggles: "Seven years ago, is this where I thought I would be?" The arrangement for "Changing Song" is just Chu and an acoustic guitar, and this pays off; it's a disc highlight, a charming, memorable pop-folk song that manages to carry the weight of his characteristically heavy lyrics without bogging down. "Hope" is back to the start — small, build-big approach. It cranks up the gain halfway through for a bridge, then ratchets back down to just Chu, his guitar, and his words about hope, that "One day this song will guide you home."
With confident and polished pop tunes, Jay Chu has made an impressive debut on Change.