Jack Williams: An American Treasure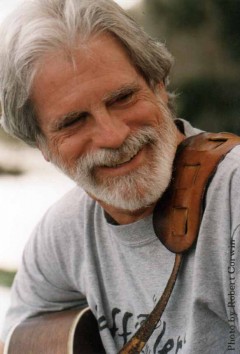 His songs are like fine, passionately crafted woodwork, finished to perfection. They shine and reflect the images and characters within. His absolute love and gratitude for the music he's been gifted with bursts from every note he plays and sings.
His guitar ability is as good as it gets. Peter Yarrow called him "the best guitar player I've ever heard." Rich Warren of WFMT Chicago's The Midnight Special said, "His artistry is nothing short of amazing!"
His voice matches his guitar playing in its skill and seasoning, adding just the right timbre to tell the tales he writes. His onstage patter is as sharp as a razor and endlessly varied.
Jack's songs are like great southern novels shrunk down into three to five minute masterpieces. Much of his material is drawn from his years living in South Carolina. To hear his description of a simmering summer day in some small and dusty southern town is to be transported there. You'll hear the cicadas whirring, smell the swampy air, and feel the weight of the heat as you lie in a hammock in the shade, sipping iced tea. You'll know his characters well, for he imbues them with so much life it's as if they become 3D and stand before you.
Jack's been a pro since 1958 and friendships with both the late Harry Nilsson and the late Mickey Newbury had profound impacts on his development as a solo artist.
Until 2002 he sometimes toured as sole accompanist to Newbury. Newbury said of Jack, "Jack and his music are an American treasure."
The spontaneous medley of cover snippets he usually closes with is drawn from a 54 year music career. It's an amazing feat of recall, masterfully jumping from key to key, tempo to tempo, style to style without dropping a stitch. It can last as long as 45 minutes and is itself worth the price of admission.
Please don't let these scrawny words of mine be your only brush with Jack Williams. Experience his majesty first hand at Folkey Monkey Presents, at VISION on Thursday, June 14, 7pm. $15 at the door. VISION is located behind the Tierrasanta Seventh Day Adventist Church, 11260 Clairemont Mesa Blvd., exactly two miles East of the 15. There's plenty of free parking, and soft drinks and snacks are available.
For further details go to FolkeyMonkey.com.