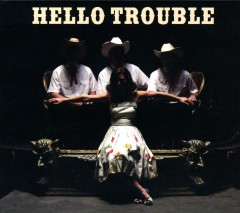 Oceanside's Hello Trouble bills itself as a "vintage country" band, sort of a throwback to the days when the stars were Buck Owens and Patsy Cline. Those days when most country bands hailed from tough prairie towns like Bakersfield or Tulsa, and usually included an out-of-work waitress and three local roughnecks with various combos of sideburns, cat clothes, and unhocked Telecasters.
The group's self-titled debut, Hello Trouble, captures this vibe on many of its 14 tracks, with most of the tunes written by vocalist/ukulele player Susanna Kurner. She belongs in the spotlight, with a rich and original voice that carries either anguish, attitude, or playfulness depending on the needs of the tunes. It all works even better because of great, veteran support by Jeffrey P Ross (lead guitar), Kevin Thor Williams (rhythm guitar, vocals), and Troy Sandow (bass).
"Move to Austin" gets Kurner in a good groove as she digs in with gusto, singing about dreams of C&W stardom; the arrangement blends ukulele into the old-time, muted guitar bass lines. Daniel Blank adds fiddle to "I Hate You/I Love You," and Cline's influence is clear as Kurner weaves a story of heartbreak and desperation, "Went to the liquor store and I bought myself some gin/ And I decided that I needed to get drunk and live in sin." This memorable highlight isn't like most of the country tunes being recorded lately. "I've Come Awfully Close" is one of two covers sung by Williams that provide a change of pace and a humorous male counterpoint to the battle of the sexes, which dominates any country disc. Kurner is back with a powerful, catchy ballad, "The Upside." This highlight leaves one wondering if it might have been even better with pedal steel guitar and a longer arrangement, as she sings about breakup sorrow, but with advantages — you get the remote back and can wear sweats to bed.
Ross produced and the CD was recorded by local bluesman Nathan James, who captures a "live in the studio" sound without cluttering things up, but also uses some tasty overdubbing (like some slick acoustic guitar fills by Ross on "Move to Austin") in the right spots.
Kurner gives "Doin' Nothin'" a smoky, jazz-inflected reading that shows off both her pipes and songwriting chops. "Side Effect of Love" follows and speeds up the main riff of "Nothin'" with a country vibe this time. Ross does great work all over the disc, and his twanging runs on "Just Fine" lift it a notch, while Kurner serves notice to the other woman in "Don't Test Me": "I may seem first class/ Don't test me, 'cause I will kick your ass", and you believe her.
Fans of the country music that existed before the current rock hybrids, glitz, and competing awards shows will enjoy the straightforward style of Hello Trouble. Nothing fancy, but good music with a bit of that classic feel.