CALAMITY: Live at Satellite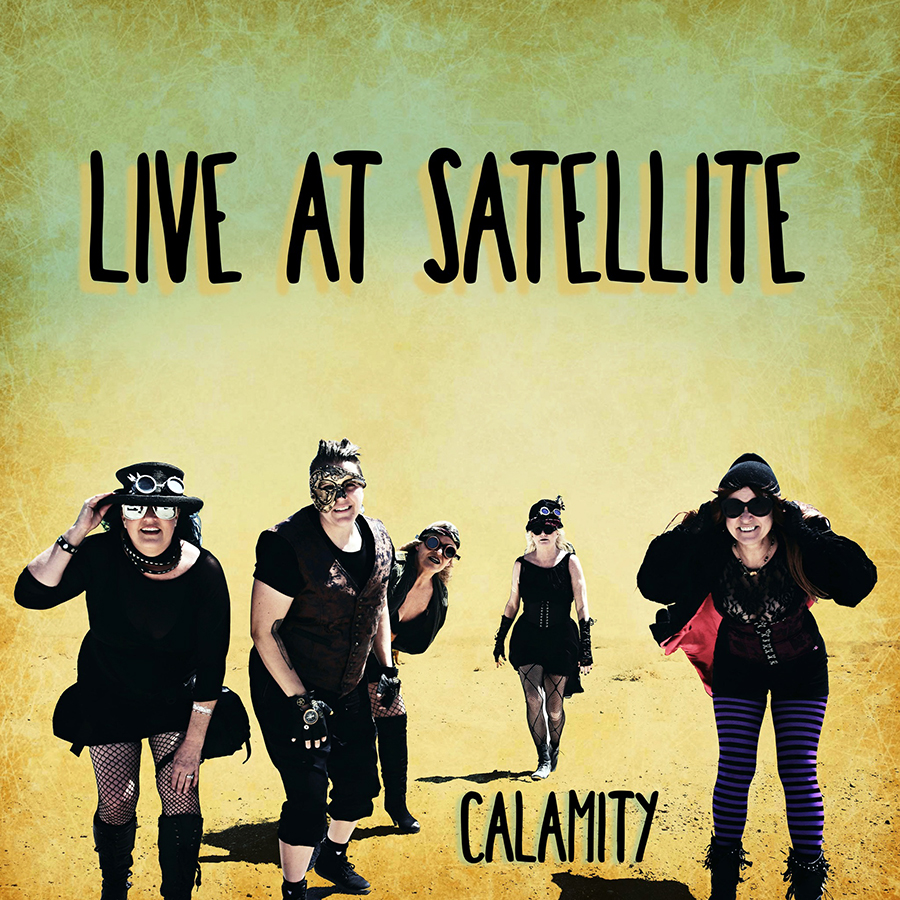 Calamity is Nisha Catron on guitar and vocals, Cathryn Beeks on ukulele andvocals, Marcia Claire on bass, Jules Stewart on drums, and Patric Petrie on violin. The album is Live at Satellite, recorded and produced by Jeff Berkley at Satellite Studio in San Diego, except the track "Earthquake Girl," recorded and produced by Christopher Hoffee at Chaos Recorders.
Throughout the eight live tracks—five originals and three covers—the tightly arranged vocal harmonies by Beeks and Catron shine, channeling echoes of the Judds and Indigo Girls. Petrie's violin/fiddle motifs support the shifting tonal moods via her melodic solos and fills throughout each track.
Catron contributes two of her tunes, leading off with "Can't Stop Dreamin'" with her muse, "someday, some way, you could be mine…but you're so far away, I'm runnin' out of time," and the tune "Through It All," with her lyrical reflection, "you've been my rock 'n' roll even when I lose control…you just keep on loving me through it all."
Beeks' tune "August" is accompanied by her ukulele chording and Petrie's somber violin tones against an unobtrusive marching rhythm, supporting her lyrics about a blue collar workforce that once was. "They tell stories of the days when people would stay, swimming in the ocean right out in the open."
"Earthquake Girl" stands out as a radio-friendly single, a collaborative effort from the whole band. It's got a catchy hook with a powerful lead vocal duet from Catron and Beeks, fueled by some hard driving guitar amid Claire's driving bass. "We're taking cover, danger is your lover, it's all your fault." Proof that this recording session was close to the holiday season is evident with the catchy band collaboration on "Calamity Christmas," also featuring the vocal duet magic from Catron and Beeks.
The three cover tunes are solid choices in balance with their original tunes, including nice vocal treatment by Catron on the Gershwin classic "Summertime," nicely set against a 6/8 time jazz waltz feel in addition to a refreshing take on Led Zeppelin's "Tangerine," embellished beautifully with vocal harmonies that make it a much more pleasant listen than the original. Not to be outdone, there's a rousing version of the traditional classic sing-along ditty, "The Crawdad Song," where Petrie struts her stuff with torrid country fiddle licks amid the sweet bluegrass vocal harmonies.
It's a delightful listen all around and easy on the ears with a simple live production, bolstered by the mellifluous vocal harmonies, catchy vocal choruses and dulcet tones from Petrie's violin….check it out!