BILLY SHADDOX: Golden Fate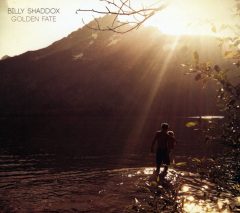 As the front man for local roots band Billy Midnight, Billy Shaddox was familiar to local roots music fans, Telecaster in hand, playing country rock, rockabilly, and boogie music with harmonies — and plenty of aggression and edge. His band was also on the cover of the Troubadour during its early years. Shaddox now hails from Utah, and his new solo CD Golden Fate has the sound of a musician who has sowed his wild oats and settled down; it is alt-folk and primarily acoustic country-rock that conveys peace and contentment.
Shaddox wrote the 12 originals and does all of the playing and singing, and this is one homemade CD that sounds pristine. He plays all manner of guitars — including some really effective lap steel, banjo, mandolin, bass, and adds layers of harmonies, all easily blending into tasteful arrangements. To this, he adds the kind of assured vocal presence that works for both rustic and smooth songs equally well.
"I Believe" is sort of a mission statement for the album, and starts with a brisk, ear-grabbing acoustic and electric guitar hook, then Shaddox lays down his testimony about how he never pays attention to the "noise" of our hectic world, preferring the quiet and calm of the "long lost ways" within. The simple, mid-tempo country shuffle "Good Idea" clicks with a catchy melody and a good-time story about getting back to nature with a musical palette of swirling pedal steel lines and friendly banjo licks. The same themes dominate the folk tale "Far to Find." Over soft, finger-picked guitar, Shaddox sings "I don't need a big city mansion…All I want is a reminder/ Of the love I've travelled so far to find."
"Waiting for the One" is a highlight that zips along with a new-grass vibe, a hoedown with an infectious guitar/mandolin riff that makes both feet tap as Shaddox again nails the vocal and arrangement. "Come Back to Me" is next and stays out in the hills for another sharp close-harmony country gem. On a disc with many standout tracks, not everything works; "This One" is a slow ballad that seems to drag forever, and "Who Let You Go?" is a slow-paced country rocker that never breaks loose and doesn't fit Shaddox' vocal strengths.
"Holy Whistle Blues" shows another side of Shaddox, as a bluesman with slick picking and a catchy tale that is a throw back to the days when many country-blues tunes were about staying on the good side of Jesus. He closes out the disc with "The Ballad of Dan McGee," a highlight and one of those Dylanesque folk storyboards about tough times and hard characters in the old West. With just the right touch of world-weariness, and a minor-chord background dirge, Shaddox confesses the murder of a fellow miner in a moment of weakness and greed, "For I knew that if they looked me in the eye they'd surely see/ That underneath the setting sun I'd killed old Dan McGee".
Golden Fate is an excellent roots album, an eclectic delight that establishes Billy Shaddox as a multi-faceted talent and skilled songwriter.
Billy Shaddox will be at Lestat's on Saturday, May 25, 9pm, along with Shawn Rohlf.