BIG SHOT REUB & THE RELOADERS: Roundhouse Blues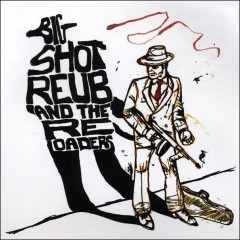 Big Shot Reub and the Reloaders is a San Diego-based trio that plays traditional blues and blues/rock, featuring front man Reuben Vigil (lead guitar and vocals), Jodie Hill (bass), and Ric Lee (drums). Their newly released debut album, Roundhouse Blues, contains 10 songs, all written and arranged by Vigil. The album was recorded at Roundhouse Recording Studios in North Hollywood (hence the title), produced by Glen Laughlin (The Dickies, Cherry Bluestorms) and mastered by Grammy-winner Charlie Watts (Fleetwood Mac/Rumours). It is an auspicious beginning — the album was nominated for SDMA Best Blues Album in 2011.
Vigil, who formerly backed local blues artist Michele Lundeen, describes his musical influences as B.B. King, Carlos Santana, Eric Clapton, and Jimi Hendrix. But despite his obvious virtuosity, Vigil is not a one-man show or grandstander. The Reloaders have a cohesive sound, and Vigil shares the spotlight with Berklee-trained Hill and Lee, who has been playing professionally since the age of 16 (with, among other groups, the Bayou Brothers).
"So Much Inside Me," "Big Shot Roll," "I Don't Drink," and "Love Is a Memory" (featuring some sweet slide guitar playing) are "traditional" blues songs, rendered in the spirit of classic artists such as Robert Johnson and T-Bone Walker. "Love's Come Knocking" turns up the tempo with some flashy guitar work reminiscent of Stevie Ray Vaughan. The gloves come off in "Survive," where Vigil channels Jimi Hendrix, complete with reverb, wah wah, and other electronic effects. "Celestial," a moody — almost dreamlike — ballad, bridges the traditional and modern, finishing with a '70s-style psychedelic guitar solo that recalls Robin Trower.
The song mix is not straight blues. "Viva Bracero" brings a Latin-flavored influence to a tribute to the unskilled workers who helped rebuild America after the Great Depression. "C," an instrumental inspired by Vigil's mother, Celia, is a beautiful guitar arrangement, played acoustically, which is almost classical in its elegance and simplicity. "Time Was," which has the least blues inspiration of the 10 songs on the album, also displays the least memorable guitar work, relying instead on Vigil's vocals to carry the tune.
Roundhouse Blues is a very impressive debut from a very promising group. The press release accompanying Roundhouse Blues boasts that "[t]here is a quality guitar slinger on the Blues horizon, and you should know his name: Reuben Vigil." Blues fans should give this album a serious listen.