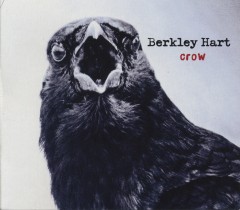 After nearly 12 years playing together, with five previous award-winning studio CDs, local Americana veterans Berkley Hart are back with Crow, and their latest album offers the kind of music for which they have become known. There are the laid-back, personal stories of Calman Hart, delivered in his smooth, folksy, talking-blues style. Jeff Berkley has more of a rasp in his voice that can add some country smoke to the occasional song that gets a full-band arrangement. But the reason for their success is the ability to step beyond these obvious strengths and write engaging songs that make full use of their warm harmonies and expert, primarily acoustic musical accompaniment.
"Little Boxes" is the only cover among the dozen songs here, and this early-sixties satire of consumer culture by Malvina Reynolds fits the duo's harmonizing style nicely. Hart weaves a tale of family life and relationships, "My Name is Sam," observing the circle of life from family dog to hospitalized grandpa with touching lyrical statements. (No lyrics for the new CD on their website yet, but all of their other discs' lyrics are there). "I Still Dream in California" has a country-rock feel, with pedal steel, banjo, lots of keyboards, and electric guitar. Berkley is singing over the big production, "Though I meditate on the Western gate/ I only visit in my head."
The two flash their versatility on "Barn Sour Horses," an imaginative Hart tune that tells of his crumbling home town, with the lingering "old men, old dogs, and old Chevrolets." The riveting musical framework for the tale is a Middle-East-influenced, droning raga that uses Berkley's banjo to create oud and sitar effects, and nice work by John Mallander on violin playing exotic Eastern modes and scales on a tune that is a creative triumph and highlight. Another great track is "Up the River"; it has a super hook, a moody, harmonized vibe and great percussion touches that give it depth.
Berkley recorded the new disc in his studio; his skills as a studio musician shine throughout and the vocals and guitars are superbly recorded. The separation and mix sounds like the band is sitting in the listener's room, including session men Barnaby Finch and Ben Moore on keys, upright bassist Doug Walker, Mailander, and others.
Two folk songs use lyrical imagery to tell tales of life's ironies: "No Place Like Home" is a quiet ballad from the viewpoint of a young girl who mentally flees her loveless family situation by clicking her heels, hoping to be transported to somewhere that is not like her home. Then, Berkley warns an approaching lover to slow things down in "Stay Away a Little Closer." A country swing treatment helps "Not My Heart" score, as Berkley plays dobro and sings about giving up your car and home, but keeping what's important.
Crow is excellent Americana music from a pair of musicians that have shown the ability to sustain this level for years. For fans, it will not disappoint; for new listeners: try it, you'll like it.