DUSTY & THE LOVENOTES: Back Burner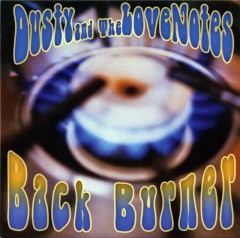 Ramona's Dusty and the LoveNotes play countrified rock, with four recordings to date that mix singer/guitarist Dusty Recor's talents as a pop singer/songwriter with singer/lead guitarist Indian Joe's rock guitar/boogie edge. It makes for a band that has two sides and more range than many outfits; Recor also adds flute to some songs, and the band includes Floyd Fronius on violin and drummer Brian "Nucci" Cantrell. On their newest CD, Back Burner, the ten tracks include eight written by Recor, along with two of Joe's.
The opener is "Riptide" and catches the ear: it is a surf song done as a romantic ballad — and plenty of fun in the process. Sharp guitar and bass runs by Joe and Nucci's drums (and a good overload of reverb) surge, with Recor in the pocket as she sings about love betrayals amid diving mute-pad licks. The band and Recor show their range with "You Want to Hear," miles from the surf opener but another memorable song that opens small with flute and soft, finger-picked guitar statements, then slide guitar and violin fill out the sound and it becomes a wonderfully realized ballad that has her singing, "You've got devils, you've got demons/ They are snaking 'round your feet."
Joe's "Just As Much Fun" rocks hard, as he joins Recor on the vocal; he has a deep growling voice and the mix is fascinating as the two blow through a boogie about driving a car into the hotel pool and running from the Vegas cops. The title track is an exercise in clever lyrics, a metaphor march about sex, dressed in cooking terms with plenty of sass not unlike the old Maria Muldaur double-entendre songs. Recor's attitude helps as she lays it out: "Here you been messin' with some other dish/ some haut cuisine, an uptown chick/ She ain't got the spice, she ain't got the kick."
The level stays high with "Yankin' My Chain," which finds Recor reading her beau the riot act to a nice rock beat propelled by Joe's dragging slide riffs; it has a good hook, a tasty solo, and is a disc highlight. "Someday" is one of Recor's songs that has a different pedigree than much of the rest of the music here. With soft harmonies and floating jazzy bridges, and instrumental interplay that finds Fronius and Joe playing unison lines, this five-minute highlight recalls the great San Francisco band from the late sixties, It's a Beautiful Day. "Walkin' Across the Sky" is another softer tune that uses Recor's backing vocals to elevate its choruses, as she asks "What if the clouds, these beautiful things/ Were really old souls, just circling?"
Dusty and the LoveNotes have hit their stride with Back Burner, a fun listen that rocks and has effective quieter moments as well.