ZACH PHILLIPS: Goddaughters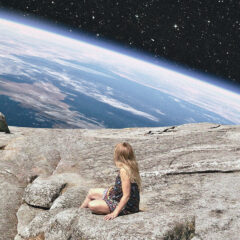 Goddaughters is the newest album from San Diego singer-songwriter Zach Phillips. It's his fourth CD following on the heels of his 2020 CD, The Wine of Youth. The independent release, containing 12 original compositions, was recorded and produced by Gregg Montante at his home studio in San Diego. Montante's footprint throughout the entire album is evident via his orchestral string arrangements, sound mixing and instrumental contributions on electric guitar, bass, and drums, providing a solid wall of sound behind Phillips' lyrical musings that lean heavily in seeking truth, meaning, and understanding of the universe.
The first and last tracks are short instrumental pieces as a bookend theme to Phillips' ten vocal tracks, titled "Cassiopeia" and "Cassiopeia in the Stars" respectively, with a droning orchestral backup building in intensity amid a mesmerizing melody from Phillips on mandolin. "Worshipers" and "Harmony Grove" immediately signal a heavy dose of reverb and delay effects on the guitars, creating a full but unobtrusive layer of sound behind Phillips' vocals, similar to the formula that U2 uses effectively as well.
Phillips' ballad, "New Star," is set behind a lilting acoustic guitar pattern and church organ tones against his lyric: "A new star gives light, but I'm out here far away where it's black as night," along with the rock ballad "Psychics," accompanied by lovely guitar fills and organ swells. "The psychics say the world's going up in flames…they said it loud, and they're not afraid…I wonder why they haven't left L.A."
Phillips' philosophical thoughts are present in the title track, "Granddaughters," accompanied regally by Bobby Cressey on organ and Phillips' rhythmic acoustic guitar pattern. "Goddaughters know nothing of the flame from which they came… and their mothers, on the endless seas they roam… all alone."
"Curses" and "The Hour When I First Believed" are pop-flavored tunes embellished by sweet flowing lap steel slide guitar tones reminiscent of the Jackson Browne and David Lindley collaboration, set behind Phillips' lyrics in the latter: "In the hour when I first believed, it started strong, then it turned to something weak…I wanted everything, a knowledge so complete…and I can't let go." The ballad, "Courtesy of a True God," features some blistering electric guitar phrases from Montante amid Phillips' lyric: "I hear the May Queen sing a melody that chimes, there's so much beauty but so much darkness entwined…and I don't know why I was left out to fight…but for a true God, I will ride."
Phillips and Cressey provide a powerful instrumental background on guitar and organ respectively behind the rock ballad "The Big Mountain," with Phillips' vocal sounding as if "The Boss" had just entered the studio. "I can see an end, and man, it's clear…but I can't tell you If it's far or near." The CD closes in strong fashion with the rocker "Ocean of Song" behind Phillips' opening mandolin melody and an array of guitar and keyboard flurries interwoven behind his final words: "and what if words will only come out wrong…when we're not strong…there's the ocean of song."
It's a delightful listen of original compositions supported by perfectly mixed instrumental arrangements complimenting Phillips' voice, which rings clear as a bell amid his deep spiritual lyrical messages of hope and redemption.