YALE STROM & HOT PSTROMI: The Devil's Brides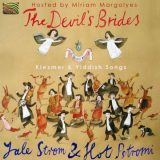 Klezmer is a style of Jewish folk music developed in Eastern Europe, which, having been brought to America by immigrants in the late 19th century, was largely lost due to a combination of the devastation of the Holocaust and its assimilation into the American jazz tradition. Fortunately, the genre was "rediscovered" in the late 1970s. Yale Strom, one of the world's leading scholars/ ethnographers/artists of klezmer music and history, has led the research into the "original" pre-jazz roots of klezmer, conducting extensive field research in Central and Eastern Europe and the Balkans since 1981. Strom's work is reflected in ten books and an impressive catalogue of original klezmer music he has composed and recorded with his band, Hot Pstromi. Strom is an artist-in-residence in the Jewish Studies Program at San Diego State.
Not surprisingly, then, The Devil's Brides is a serious work by an accomplished musicologist. Originally conceived as the musical score for the 2011 audio drama "The Witches of Lublin," The Devil's Brides is based on Strom's discovery that, contrary to conventional belief, there were occasionally women klezmer musicians performing publicly at fairs throughout Central Europe in the 17th and early 18th centuries. The Devil's Brides consists of 11 songs (some traditional arrangements and others composed by Strom) of the sort that might have been heard at the typical Jewish wedding in 18th century Poland, each one with an audio introduction by Strom and actress/voice artist Miriam Maygolyes (Harry Potter). The songs — some festive, others melancholy — are performed in the klezmer style featuring violin (Strom), cimbalom (a hammered dulcimer) (Alexander Federiouk), bass (Roger Sprocket), and accordion (Peter Stan), with substantial spontaneous improvisation. Strom's wife, Elizabeth Schwartz, contributes her trademark dusky vocals.
The Devil's Brides, subtitled Klezmer & Yiddish Songs, is released by ARC Music (UK), a leading label for top quality world and folk music. The packaging is first rate, including extensive liner notes with photos (translated into English, German, French, and Spanish). One need not be a student of klezmer music to enjoy this exuberant compilation of expertly performed tunes. The "history lessons" between each song are short and interesting. Highlights (at least to this reviewer) are "Dire Gelt" (showcasing intricate violin work by Strom and instrumental improvisation among the Hot Pstromi ensemble), "Tumbalalayka" (featuring Schwartz's robust vocals), and "Lustig Zayn" (featuring spirited accordion and cimbalom work).
Serious listeners (or even beginning klezmer enthusiasts) will be riveted by Strom's research, the diversity of the selections, the artist biographies, the original Yiddish lyrics, and the cultural/ historical significance of the songs. Even klezmer novices will enjoy this excellent survey of a rich (but once almost forgotten) musical tradition.