YAEL & VLADY: Delicious in ze Middle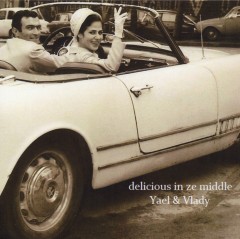 Geographically, a lot of locals believe that San Diego has a musical center highly concentrated around downtown and extending through South Park and North Park. This is, after all, where all the hippest places and music are, and it's where a lot of musicians live. Despite this musical centrism for our town, North County has nonetheless given us some great talent. North County coastal is Peter Sprague's stomping grounds. And who can forget Leucadian Steve White? Now, the North County duo of Vladimir Yarovinsky and Yael Gmach has given us their CD, Delicious in ze Middle, reminding us that there is still much to listen to from the upper left hand portion of our county.
On the CD's cover, with a photograph of a young couple driving off in a convertible in what appears to be Europe during its post-war prosperity when the Marshall Plan had kicked in and life was grand, Yarovinsky and Gmach signal that Delicious in ze Middle is both carefree and celebratory. So, step on the pedal and let's go! The disk cover also includes something new to me, a plug for an art framing shop in North County. I guess in this new economy, cross marketing is where it's at.
Recorded in Cardiff, the eight songs that comprise Delicious in ze Middle have a North County coastal looseness and casualness. The CD sounds as though Yarovinsky and Gmach were tossing around a few tunes on a lazy afternoon and were just waiting for a microphone to wander into the room. The songs, all written by Yarovinsky and Gmach, draw on a variety of popular musical genres, from blues and Latin-influenced calypso, to old-time Americana. Some of the arrangements are quite spare — just drums, bass, and guitar or just a couple of guitars. Power Serge (Is that a real person?) adds guitar to "The Most," and Folding Mr. Lincoln's Alicia Previn adds her violin to "Help is Coming."
The star of this disk is Gmach's voice. Under the influence of singers such as Joni Mitchell and Rickie Lee Jones, who stretched and compressed their phrasing, sang ahead of, behind, or around the beat, and loosened attachments to melodic content, female singers have been given a great deal of freedom of interpreting a song. Gmach uses this vocal freedom to the Nth degree. Always retaining a lightness and a vulnerability, she develops a different vocal character as she sings each song. It's almost as though Delicious in ze Middle is a compilation disk of different singers. As Gmach sings "Dandelion Wine," her voice comes across as coquettish, coy, and lazily playful. Her approach to the "The Most" is quite the opposite. A little raspy, even somewhat dark, she sings the lyrics with a desultory wandering, as though she were trying (and succeeding) to convey a sense or restless ennui.
An intriguing recording, Delicious in ze Middle will have us anticipating more music from Yarovinsky and Gmach.