Tiki Oasis Celebrates 20 Years of Exotica Mayhem and Fun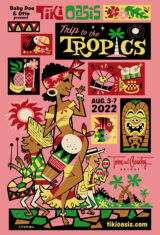 The world's largest Tiki culture event, Tiki Oasis, returns to San Diego's Town & Country Resort Hotel from August 3rd to August 7th. It will feature the upbeat sounds of nationally acclaimed ska groups, along with top rock, surf, and R&B bands from around the country. The event will also have national, international, and local DJs, burlesque dancers, artists, and photographers, along with guest speakers, seminars, a huge marketplace, and so much more. This year's theme is "Trip to the Tropics," celebrating the Caribbean influence on Tiki and Polynesian culture.
It's these themes and observances on influences of Tiki culture that really appeal to me. A few previous years have tapped into the realms of International Espionage, Monster Island, South Seas Cinema, Space Age, Beat-Tiki, Hullabilly, South of the Border, and Tiki Surf City, all done with a bit of camp and light heartedness. I can only imagine the fun and libations had at conjuring every years ideas. The planning and brainstorm parties. Simple, isn't it? Well, I certainly had to know more..
With a few hoops to hop, I secured a short phone interview with Otto Von Stroheim. He, along with his lovely wife Baby Doe Von Stroheim, are the creators behind Tiki Oasis. Having never met them, I imagined a couple steeped in mystery, as they jet-setted across the globe for new Tiki adventures to be had, or imagined for the next event. When we finally spoke, he turned out to be very affable, friendly, and definitely excited at this year's event.
</divRegarding the headline bands, Otto explained, "In this year's theme, we wanted to showcase the Caribbean influence on Tiki culture. Being a fan of ska music and the Aggrolites, I was thrilled to have them at this year's event, plus surf group the Bomboras, who haven't played at Tiki Oasis before as well. Other great bands to check out will be the Messer Chups, Surfragettes, El Vez, The Wyld Gooms, Ixtahuele, Jackie Mendez, and a ton more."He also mentioned that he was excited about the DJ roster this year, which includes Marv Mack from Soulside Productions (the premier DJ for Ska, and Northern Soul), Zombierella (from the Messer Chups), DJ Tony the Tyger, Eric Musick, Mike and Anja Stax, Rockin' DJ Amy Dee, Samoa Boy, Junior Frances, and Lee Joseph to name just a few. Incidentally, Otto will be DJing as well, but I'm sure he didn't want me to mention that..
What was supposed to be a quick interview turned into a chat with someone I felt knew for quite a while. The conversation ran from favorite bands and music to favorite tiki drinks and rum-infused cocktails (from the Carribean of course). Discussions on the 1950s fascination with the limbo ensued. Harry Belafonte and the Banana Boat song came to mind, steel drums and, of course, Jamaica's rock-steady and blue beat music that predated reggae were chimed in. Turns out we had kids around the same age and took to Tiki Oasis from time to time over the years. It dawned on me that if Tiki Oasis was a kid, they would be of drinking age next year, which I imagine will be quite an event to behold.
I asked about how it all started, and the one question I really did want to know. Of all places, why San Diego?
"Initially, my wife and I wanted to host a special Tiki event that would help raise money for the renovation at the Tropics Hotel in Palm Springs. This was in 2001," Otto shared. "As the hotel was seen by many as a very important part of Tiki culture, we wanted to bring people together to preserve this important hotel. What was initially a small group of 50 eventually turned into hundreds of people over the next five years, and we even had to turn down guests as space was limited. As things were getting bigger, we knew we had to find a new spot that would accommodate the growing popularity of the event. That's when we decided on Crowne Point (formerly the Hanalei) in San Diego. It still had the vintage look and charm of the Hanalei, with all the necessary amenities and access we'd need for hosting a large event like Tiki Oasis."
As luck would have it, our time ran out, or rather my recorder ran out of battery (typical me), which was fine, as he also had a prior engagement. Naturally, I imagined him being called on to some exotic Tiki mayhem in some far flung reaches of the world. I bid him farewell and, of course, a very happy 20 years to Tiki Oasis.
Tiki Oasis, August 3-7, Town & Country Resort, 500 Hotel Circle N. Times vary.
Tickets, schedules, and more event information can be found at: https://www.tikioasis.com/