THE LOVEBIRDS: Nutsy Pants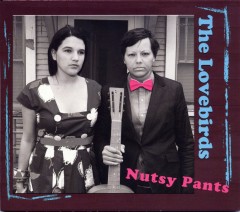 Inventive and unconventional songwriters Lindsay White and Veronica May are The Lovebirds, a San Diego-based vocal duo releasing a winning debut CD called Nutsy Pants.
If you're over 50, think Simon and Garfunkel with a sense of humor. If you're under 50, think Nora Jones, multiply by two and add substance.
Produced, recorded, and mixed by Jeff Berkley, the quality of the vocals and instruments is superb. The Lovebirds wrote eight of the 10 songs, and contributed additional verses to the other two.
Doug Walker plays delicious bass throughout. May and White both contribute guitar, although May's is predominate and assured through the hints of jazz, ragtime, back country, folk, and swing. May also adds incredibly tasty piano and playful ukulele. Berkley adds drums and percussion. Jeffrey Joe Morin adds harmonica on one cut, and Lou Fanucci actually makes you like the accordion and transports you to Venice on "Love Letters." Michael Fryer whips you off to Leprechaun land with a delightful penny whistle.
Some of the stand out cuts:
2. "Ring Around the Roses"
The song starts out prose-less and boring, then subtly metamorphoses into intricate vocal weavings and punch-in-the-kneecap revelations:
"…the clouds cave in so you can land on me."
4. "Life Is So Good"
Like the Beatles "I Want to Hold Your Hand," on paper the lyrics beg to be tossed. But, also like the Beatles, the Lovebirds pull it off by combining a catchy melody, a simple but brilliant arrangement, crisp enunciation with clipped syllables, "such a great smile, you got: such a great smile" and attitude: "such a great butt, you got, such a great rump."
Girl scouts in the next century will be singing this one around nuclear fires. "Such a great life, I got, such a great life."
6. "Oh My"Freckles playing chase, midnight hair, pity for the light: if Dylan had a sense of humor you'd think this was one of his songs.
8. "Love Letters"
One of those songs that is so cloyingly clever and cute that you hate to love it, but you can't help yourself. Like drooling babies.
"There's got to be somebody, somewhere that you know,
That could use a few X's and O's"
The recording does have a few flaws and missed opportunities: some pitchy vocals, some missing oxygen on a few power notes, plus a couple of the songs would have benefited from another round of editing. A couple of the songs are simply clever and cute with no skeleton. But overall, this is one of the finer recordings to come out of San Diego in some time.