PLAYGROUND SLAP: Disco Nausea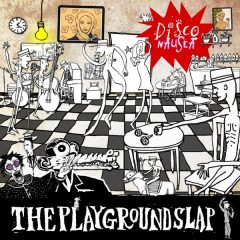 The Playground Slap was one of the most delightful bands to come out of San Diego's resurgent music scene in the 1980s: Immensely talented, they were also not only impossible to pigeonhole but nearly as difficult to even describe.
Beyond genre, they took in everything from the then au courant new wave to punk, jazz to electronica, mod to neo-psychedelia. Their signature song was an endlessly re-invented bit of gorgeous melody titled "Blue Funk," and they released a self-titled EP in 1985.
After splitting up in 1988 as the members began doing odd things like finding steady employ and starting families, the band regrouped a few years ago. Founding members Marcelo Radulovich and David Ybarra are still heading things up, with Ray DeZonia and Mike Kenneally also on board. With original drummer Michael Addis now a successful indie filmmaker in LA, local stalwart Bill Ray has been asked to take on rhythmic duties (although Addis does contribute drums and vocals on some of the tracks on the new release).
While their first run gave us only a five-song EP, the new CD clocks in at a robust 98 minutes, spanning 17 tracks. And Disco Nausea is a concept album, seemingly built around the theme of "What would have happened if Frank Zappa and Parliament ended up in the same studio?"
As that comparison implies, the music is as difficult to pin down as during their initial run 30 years ago – with huge swaths of hip hop and rap thrown into their existing mix.
"Blue Funk," of course, is re-invented again – twice, actually. (Somewhere there exists perhaps the perfect version, a downtempo mix that SDSU radio station KCR had on tape cartridge in the mid-1980s. I WILL keep after them to find that mix and share it with the world.)
In its first reincarnation, "Blue Funk" opens as a kind of dervish before sliding into a rap vocal, then back into a Middle Eastern groove punctuated by a hard rock guitar solo and harmonica vamp. And in the hands of the Slap, all of that devolves seamlessly into yet another classic re-invention. The second version is subtitled "Disco Mix" – which, of course, it is not. It's more of an extended jam, a riff on the theme that carries it even further out than the first.
The rest of the album is equally adventurous, from funked-up prog rock noodling above synthesized strings ("The Ocean") to Zappaesque hard-rock novelties full of double entendres ("Master Dong").
And the 18-minute title track ends things with a rambling, sometimes lost but occasionally brilliant jam that is based on the premise of hitting the button on your car radio every minute or so and finding a new station. If there exists no market in the world with this many uber-cool outlets, listening to the Slap run through everything from oldies to country to jazz in short snippets is a reminder of just how brilliant these guys are.