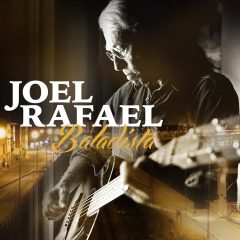 When Joel Rafael started writing music 50 years ago, there was a war abroad, civil unrest here at home — with clashes between police and people of color, and blue-collar folk balladeers singing protest songs following the templates established by patron saints Woody Guthrie and Pete Seeger. Looking around, the century may have changed, but little else. Now that Rafael is an established presence on the folk scene with nine albums released since 1994, two have featured Guthrie's tunes and his other music is permeated with statements about social issues, mixed with personal memoirs. The songs on his latest, Baladista, are no exception.
The ten songs include one cover and are given slick arrangements, wrapping Rafael's comfortable vocals in softly focused guitars, pedal steel touches, and occasional backing harmonies. "She Had to Go" gets things started with a wistful look back on a love from his youth that got away. Like the other tunes on the disc, it is full of well-crafted lyrics, included in the artwork. The following tune stays on message; "Love's First Lesson" was cowritten by Jack Tempchin. It is similar to the opener in sound and message, "Remember when things fall apart/ That love's first lesson is a broken heart."
Back in his draft-avoiding days, Rafael spent time in Portland's county jail after the local law cleared out the rail-riding element, and "Old Portland Town" is a catchy story tune directed to his bail-paying rescuer, yet he still claims no regrets for the experience. And if a tale about being jailed for being a vagabond doesn't ring Woodie Guthrie bells, the next tune is "El Bracero." It's in the tradition of songs by Phil Ochs and Guthrie about the disgraceful importation and exploitation of Mexican agricultural laborers to do stoop labor for slave wages, under terrible conditions, during and following World War II. Rafael's song is a highlight that touches on the sad chapter, "paid only with a coupon," and lists the numbers that died in bus and truck accidents. Rafael scores a social issue trifecta with "Sticks And Stones," again using wordsmith skills to outline an experience at an Oklahoma concert, when he sang a Guthrie song about a lynching to a group that included a black woman — and some racists that had hurled hate speech at her.
"The Good Samaritan" finds Rafael's dream putting himself in the role of the New Testament man who gets mugged and left by the road, ignored by all but a Samaritan who helps him. "The more I think about that dream the more I realize/ I see the face of that Samaritan in every person's eyes." The disc closes out with the folk standard "500 Miles," a good fit with the other material, as Rafael has laid out a collection of unhurried folk that doesn't try for country or rock crossovers, but also isn't minimalist. His music also doesn't try to be edgy or post-folk, but has a personality and a conscience. Baladista is sure to find many fans, especially among lovers of traditional folk music.