Follow Me Down: Vanguards Lost Psychedelic Era 1966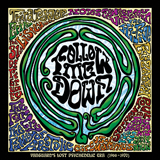 Although Vanguard is often thought of as a folk label, populated by myriad acoustic troubadours, the truth is that the label has always had an adventurous edge, nowhere better exemplified than on their new compilation, Follow Me Down: Vanguard's Lost Psychedelic Era 1966-1970. Featuring 18 vintage items from the labels vaults, there are no names widely known outside garage music collector circles, save possibly the Leslie West fronted Vagrants and Dick Wagner led combo, the Frost. But that's not to say there aren't plenty of great tunes to be found here. Meanwhile a few bands had members that would go on to greater fame elsewhere, such as The 31st of February, which featured future Allman Brothers drummer Butch Trucks, Circus Maximus, which included a young Jerry Jeff Walker and the Third Power, which included guitarist Drew Abbott soon selling out stadiums as part of Bob Seger's Silver Bullet Band.
As might be expected from an album whose participants' music covers the last half of the sixties, influences are all over the place. While the music is indeed from the psychedelic era, blues, folk, and pop fans will find much to their liking.
The album opens strong with the Third Power's 'Get Together,' which compares favorably with Cream or Hendrix. Other highlights include Notes from the Underground's 'Where I'm At,' which marries a Question Mark-type piano figure with a fuzzed out guitar and sub Beach Boys 'Smile' background vocals. Meanwhile Notes from the Underground's 'Why Did You Put Me On' also included here, almost sounds like a different band. A garage-flavored hammond-driven masterpiece, any fans of the Tell Tale Hearts or Fuzztones need this in their collection. Also particularly striking is the Vagrants 'I Can't Make a Friend' a keyboard fronted, Motown styled stomper, with a terrific half time middle eight.
The album careens between lighter fare and heavy numbers. It's no coincidence that it opens and closes with the latter, and it's no coincidence that both songs hail from Detroit. The closer is the Frost's 'Big Time Spender,' which clearly shows the way Frost would soon take with Alice Cooper. There is lighter fare as well, such as the Family of Apostolic's 'Saigon Girls,' a near Baroque instrumental guitar, strings and horns-laden number that wouldn't have sounded out of place on a Left Banke album, though minus the moans and screams overdubbed towards the end.
However, the albums top track is the Far Cry's unhinged blues 'Hellhound.' There is stellar guitar and harp work, but the over-the-top vocals sell the song on top of a groove that's begging to be sampled. Captain Beefheart would be proud.
These are just a few of the unearthed delights to be found on this excellent compilation. The tracks collected on Follow Me Down may be obscure, but this is a solid mix of bands and songs, with enough variety to make even a jaded collector take notice. If you're fan in the slightest of sixties rock music, this disc is an essential addition to your collection.