EMMYLOU HARRIS: Hard Bargain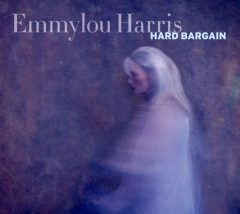 In a career that has spanned six decades (her first album, Gliding Bird, was released in 1969), Emmylou Harris has produced an extensive, celebrated, and eclectic body of work. (Her 25 albums encompass the genres of bluegrass, folk, country, gospel, and rock.) The 12-time Grammy winner, who was inducted into the Country Music Hall of Fame in 2008, has always been renowned as a vocalist and duet partner, who has sung harmony with Gram Parsons, Bob Dylan, Willie Nelson, Guy Clark, Linda Ronstadt, Dolly Parton, Neil Young, Roy Orbison, Gillian Welch, and many others. However, Harris has primarily been known as a singer and interpreter of other artists' songs, rather than as a song writer. Her latest recording, Hard Bargain, aims to change that.
Hard Bargain, Harris' third album on the Nonesuch label, contains 11 original songs, three of which were co-written with Grammy- and Oscar-winning composer Will Jennings and two tracks penned by others. Unlike her previous album, All I Intended to Be (2008), which was recorded over a period of three years and featured an all-star cast, Hard Bargain was laid down in just four weeks with only three performers: Harris; Jay Joyce (who also produced) on guitars and keyboards; and Giles Reaves on drums and keyboards. Harris overdubbed all the harmonies, which are luminous. The resulting arrangements are surprisingly rich, but the most impressive aspect of Hard Bargain is the introspective and hauntingly poignant lyrics, especially the songs penned by Harris, many of which are drawn from her life.
The opening track, "The Road," is an ethereal tribute to Harris' former lover and mentor Gram Parsons, who died of an overdose in 1973. It is obvious that Harris' heart still aches from the loss: "I know I couldn't save you/And no one was to blame/But the road we shared together once/Will never be the same." Another track, "Darlin' Kate," is a moving elegy to Harris' close friend and frequent collaborator, Kate McGarrigle, who died of cancer last year. Two songs, "Nobody" and "Lonely Girl," are about loneliness, something the thrice-divorced Harris has undoubtedly experienced from touring for much of the past 40 years. "Goodnight Old World" is a bittersweet lullaby inspired by Harris' newly arrived grandchild. The whimsical "Big Black Dog" is about Harris' adoption of a stray. (Harris runs a dog rescue shelter in real life.) In "The Ship on His Arm," suggested by the true-life story of her parents (her dad, a Marine, was a POW in the Korean War), Harris tells the romantic story of a couple separated by war.
The ballad "My Name is Emmett Till" is based on the true story of a 14-year old boy brutally murdered in Mississippi in 1955. Not all the songs are sad. "Six White Cadillacs" has an upbeat rockabilly tempo, even if the lyrics deal with the weariness of life ("Hey hey hey carry me home."). "New Orleans," a nod to Hurricane Katrina, is the most rock-oriented song on the album. The title track, "Hard Bargain," was written by Ron Sexsmith. The album closes with the only other cover, the uplifting "Cross Yourself," written by producer/guitarist Joyce.
In Hard Bargain, Harris, now 64 years old, wistfully reflects on her life — and its disappointments, regrets, and losses — in a way that is unstintingly honest, sometimes melancholy, occasionally joyous, never maudlin, and always heartfelt and eloquent. With this album, the venerable Harris has proven that she is both a first-class singer and songwriter.