DANNY WELLER: Third Story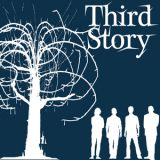 Third Story is a jazz collaboration of three native San Diegans: double bassist Danny Weller, pianist Joshua White, and guitarist Jeff Miles, along with LA drummer Jens Kuross. Group leader Weller and White have relocated to Brooklyn, but the local connection remains strong; Weller has played with many top local jazz names and both White and Miles have won acclaim and contests here and elsewhere as rising young stars. All four are aces on their axes.
Their debut disc, Third Story, was quickly recorded in Weller's parents' home, but it sounds great. A couple of spins and a visit to the quartet's website confirms that these young players draw inspiration from the styles captured over 30 years ago by European jazz label ECM records. These records included such artists as Keith Jarrett, Ralph Towner, Chick Corea, and (personal favorite) John Abercrombie during the late '70s and early '80s as fusion was fizzling, but not yet smooth. Some of the music has a loose structure, coloring beyond the lines, with both empty spaces and crowded bits of chaos mixed in.
Weller, Miles, and White all contributed to the ten originals. "Illustrator" is a perfect start, as the impressionistic nature of the sound starts with some ensemble ideas with ringing intonations of White and Miles' guitar and keys together. Soon, each takes his own path and scales scamper this way and that, drums enter the melee, then the notes settle like dust after a strong breeze. Weller starts off "For Now" with a strong bass statement, then the guitar and keys have their own dialogue, with Kuross' power sticks having the final word.
"Scarlet Tanager" features a catchy ensemble theme to set up White for some inventive keystrokes (which unfortunately compete with overdone guitar background effects — but remember, this is impressionist jazz). Things are quieter and more restrained on "There, With You," again with White getting the spotlight in a softly realized ballad that teases with snippets of fusion (cymbal flares, darting background guitar lines).
Miles cuts loose again on "Boss Fight," the standout track here, and the one that dips furthest into the fusion pool. Similar to Return to Forever or Mahavishnu Orchestra's headlong shred-fests, this includes booming electric bass and White burning off some Jan Hammer moments on electric piano. Miles' quicksilver guitar notes fly by breathtaking assurance. "King Kenny of Kirkland" amounts to a sort of post-bop duel between White and Miles; both shine in fluid solos on the swing jazz tune. Weller is back out front for a fine solo in "Croton Falls," then Miles shows some of the John Abercrombie influence in his own break, as he uses a fast pick, interesting scale choices, and round, crystal clear tone. "It's All Around You" covers a lot of dynamic ground, from slow, lyrical ensemble phrases to incisive guitar work, with shifting rhythms and textures.
Danny Weller's debut disc is both fresh and familiar, and not to be missed by guitar, keyboard, or any other jazz fans.