BROTHERS LARSON: Larson's Best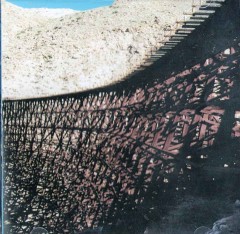 The Brothers Larson were previously billed as the Larson Brothers and are a working alt-country band from the Long Beach area. The name change is likely due to another Larson clan making music and CDs; Jeff Larson is the songwriter (and has released a solo EP), and there is (yup) another Jeff up there cranking out country albums, several of which have been reviewed on these pages. The Brothers don't have a website (that can be found) but much of their Royal Desert EP was in the vein of Neil Young's acoustic country-rock. They are back with a full-length album, Larson's Best, clearly trying to expand their sound.
Jeff sings, plays guitars and wrote the nine tunes, Brad (bass, vocals), and Bear "Cakes" (percussion) are the other brothers. The arrangements are mostly stripped-down, though Rich Wenzel plays keys on several tracks. The disc is co-produced by Wenzel, with a fairly good overall sound mix, though there are some ideas that don't work.
The disc opens with "Never Say Goodbye," a pleasant acoustic ballad that is one of the highlights, the lead vocal (Jeff?) is surrounded by a steady pulse of acoustic guitar chords and given plenty of lift by a taste of reverb and some really nice pedal steel (too bad Greg Leisz isn't on every track). "Chasin' the Wind" is plugged in, with the lead vocalist pushing to sing as high as possible, to mirror Neil Young's sound from albums like Rust Never Sleeps and tunes like "Pocahontas." "Chasin'" works pretty well, but "Mainstream" doesn't, another shot at a Young-style tune, with superfluous sounds of playing children at the beginning and overwrought drums.
The best tune is "Lille Stuga," another song with a familiar feel to it, with harmonies on the choruses, "Hear the wind in the pines/ This place is yours and mine." This tune has added depth from Wenzel on organ and string effects, driving its catchy hook to a place a notch above the level of the other music. The momentum is lost as the next track, "A Lone Goth," is throwaway with almost embarrassing, extraneous sounds like a cackling female voice and thunder. "The Canyon" is a suite that may have sounded great on paper: after what sounds like some Native American chanting, the band plays some tight prog-rock style riff soundscapes for a couple of minutes, then the song abruptly becomes a flowing, smooth acoustic harmony ballad about the Anasazi Indians — until it lurches back into another instrumental section that sounds like Kansas imitating Rush. This all actually works pretty well; the Larsons are good musicians, but their foray comes off the rails after 5-1/2 minutes, when brother "Cakes" hammers through a two-minute drum solo straight out of 1969. The disc closes with a calm, charming Jeff number, "I'm Going Home," a personal acoustic song with none of the bombast or distractions heard on some of the other music.
The Brothers Larson deserve props for expanding their musical palette on Larson's Best. Not every track is successful, but there are many interesting moments.