ASH FENNER: American Rags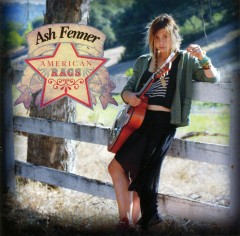 American Rags is the debut EP by local folk singer/songwriter Ash Fenner, a disc that subtitles itself "The sultry sounds of a gypsy's folk jazz." The former Angelino also cites heavy metal, Americana artist Peter Bradley Adams, and indie folkster Gregory Alan Isakov as influences. She started writing songs in 2011, and seven originals appear on the debut (no info anywhere on who else appears on it, but it's nicely recorded).
Fenner's voice is a mirror image of Norah Jones', which isn't a negative. While her songs aren't the same light jazzy style as Jones' are, they have the same breathy, affected intonations. "Home Bound" sets the disc's tone, an earnest ballad that finds her singing about returning to her home base, and making a new start; it is framed with a nice arrangement with strings, acoustic guitar, banjo, and keyboards. For "Visitant's Waltz," Fenner tries something different with a 3/4 time folk melody and carries it off as the song manages to lift in the choruses. The disc highlight is "Runaway," which starts small and builds, adding a dimension missing in some of the other tracks, then plays out with overlapping choruses in a good arrangement that packs some impact. "A Gypsy's Score" comes closest of any track to Fenner's subtext about exotic sources by using an accelerating/decelerating time signature, drum accents, and acoustic guitar flourishes to give it a Klezmer/gypsy imprint. Most of the rest of  American Rags is closer to generic Americana folk-pop, with several ear-catching tracks that show a developing songwriter in Ash Fenner.