ARCHIE THOMPSON & THE ARCHTONES ALLSTARS: Jazz Vespers, Vol. II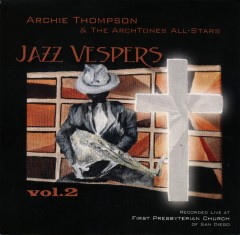 Something of a Swiss Army knife of popular music, Archie Thompson has been swinging, jazzing, bluesing, and rocking around Southern California for over two decades. A solo act, he also fronts several ensembles that treat audiences to surf music, blues, and the standards of Nat King Cole, Frank Sinatra, as well as other great jazz singers.
With Archie Thompson & the ArchTones All-Stars Jazz Vespers, Volume II Thompson gathers some of the best musical talent that San Diego has to offer. (For a review of Jazz Vespers Volume I see the June 2015 San Diego Troubadour.) Most of the 11 tunes on Volume II are blues and soul, with a few jazz chestnuts thrown in. Whatever the type of music it may be, the performances on this CD are stellar and are sure to please music lovers far beyond San Diego County.
Flutist Holly Hoffman turns in a single performance on Vespers, brightening the languid "Blues in the Chapel" with playing that has a great deal of panache. Two of the other blues numbers feature Nathan James. If I didn't know better, I would guess that he was a man of a past generation and a veteran of the Chicago blues scene.
It's obvious that Thompson takes his music seriously. But his vocal delivery on "Pennies From Heaven" reveals his waggish side. The approach to his phrasing is playful and adds a lot of life to this often heard tune.
For most of the jazz standards Thompson pairs trombonist Kevin Esposito with guitarist Bob Boss. Ever since I moved to San Diego Boss has been one of the best guitarists around. It has been memorable every time I've had the pleasure to hear him. Esposito's credits include the Brian Setzer Orchestra  and Night People, the jazz vehicle of local composer Joe Garrison. I liked how melodically both of these performers played, and I enjoyed the timbre that Esposito produces with his understated approach.
Whitney Shay, for whom I would wager good money on as the best singer in San Diego, revives Sam Cooke's "A Change Is Gonna Come." Gifted with a voice that has clarity, grace, and power, Shay's delivery on this soul classic is top-notch. You won't hear anything better.
Thompson recorded both Jazz Vespers' Volume I and II in the chapel at the First Presbyterian Church here in San Diego. The ambiance gives the impression of a live recording. Most of the time this succeeds greatly; you can hear how the musicians play off each other in this somewhat live setting. But there are a few times when the music is swallowed up in the empty church. Jason Littlefield plays some really good bass solos, but the sound of the bass loses clarity in the large room.
Jazz Vespers Volume II includes 56 minutes of music. So this CD gets six and a half bonus points for being almost an hour long. I've not heard Jazz Vespers Volume I, but I eagerly anticipate checking out that recording soon.