All Aboard for a Cruise Jam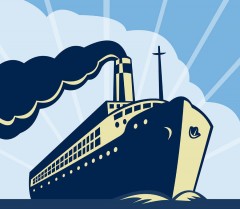 Picture yourself out on the ocean in a big ship with nothing but musicians who just happen to have their instruments, with nowhere to go and nothing to do but play music. Could be the jam of jams. You won't know until you try.
Here's your chance to do just that by signing up for next year's Cruise Jam, which sets sail in January for a music and fun-filled cruise over five days and four nights — from Long Beach to Catalina Island to Mexico and back to Long Beach again.
Sponsored by Flatpicking Guitar magazine, this affordable Cruise Jam (fares range from $389 to $419) features unlimited bluegrass, folk, acoustic blues, old-time gospel jamming for participating players. Workshops are also offered in fiddle, mandolin, banjo, and guitar instruction in addition to lectures on various subjects, including the history of bluegrass gospel music. As the flyer says, there will be plenty of opportunities to "jam to your heart's content until your fingers bleed."
NOTES FROM MY JOURNAL
Monday morning in San Diego broke to cloudless skies and temperatures in the low seventies. My wife, Marge, and I left the house at 9am; boarding time in Long Beach was noon, and we were expecting heavy traffic. Surprisingly, traffic was light and we arrived by 11:30am.
The parking garage was right next to the cruise terminal and the Queen Mary. Our two bags were taken off our hands by porters before we even exited the parking garage. From there it was just about a hundred yards to the queue for boarding the ship. They started processing us at noon sharp, and we soon filed aboard. On board we immediately went to the Lido Deck for lunch. We chose to go into the buffet area, while others hit the outdoor burger line by the pool. Inside, many of the booths held guitar, fiddle, and mandolin cases while their owners were checking out the food lines. So, it wasn't hard to locate the bluegrass crowd and our host, Jerry.
When we went to our room, our luggage had already been delivered, and we settled in to our new digs — very glad we had brought warm clothing, as the ship air-conditioning was set to meat locker temperature.
I saw that I was slated to host nightly jams at 9:30 on the Lido deck; I also saw that my "Getting the Most from Your Open Mic Experience" seminar was on the schedule for the next day.
The first meet-up/jam session was scheduled for 2pm in the Avant Garde Lounge, one of several piano bars on the ship. My open mic friends comprised a group of 12 and were joined by about a half-dozen others. Throughout the weekend our jams consisted of 15 to 20 core people with others phasing in and out until the wee hours of the morning.
Concurrently with the folk jams, there were a couple of bluegrass jams scheduled; so I was pleased that we had good turn-outs for our sessions.
The timing of the 9:30 jam sessions allowed everyone to eat a leisurely dinner in the main dining room and catch the Vegas-style shows in the ship's Paris Lounge. The dining room had a choice of menu items that changed each day, starting with an appetizer and ending with tantalizing desserts.
Tuesday morning we awoke to a view of the famous Catalina Island. We had a continental breakfast in our room and then proceeded to the Mardi Gras dining room for another breakfast before debarking.
By ten o'clock people were boarding the tenders for the short hop to Catalina; there were plenty of brave souls that brought their instruments on land for the jam at an Italian restaurant. A few of the group chose to shop while others rented golf carts and explored the island.
The afternoon workshops got off to a late start because people were just trickling on board and heading to the Lido deck for a quick bite to eat. There was a fiddle class in session and a Jewish bluegrass/folk music workshop after that. I joined the fiddle group with a little guitar back-up, then took a shot at the Jewish bluegrass/folk seminar.
We sailed from Catalina as were eating dinner, where the common topic was, "Is the ship moving or not?" Generally speaking, the ride was remarkably smooth.
Tuesday evening was the ship's dress-up night, where couples put on their finery and stroll the promenade, stopping to pose at the photo set-ups, of which there were plenty. It was a treat to see everyone all dressed up. We stopped and posed at about five or six booths so we would have plenty of opportunity to choose the most complimentary shot ($22 for an 8″ x 10″).
While at sea, the casino was in full swing, although closed when in port. It was one of the areas on the ship where smoking was tolerated.
Wednesday morning we arrived at Ensenada, where we were able to debark at dockside and catch a shuttle bus to the small downtown proper. There were tours to the scenic blow-hole and a shopping area with 400 shops. There wasn't much to see downtown; those who chose to see the blow-hole were duly impressed and seemed to enjoy the shopping.
Back on board there was a 2pm bluegrass jam in the Candlelight Lounge, but IÂ  sat in once more with the fiddle group. My seminar had a lively exchange of ideas and information; we talked about performing on a real stage with microphones, monitors, and a sound man, and discussed the best ways to prepare for the experience.
Dinner that evening was peppered with everyone's experiences in Ensenada and a growing camaraderie among the group. There was a little belt loosening going on (the chocolate melting cake was amazing and impossible to resist); afterward we attended the Vegas Style extravaganza.
There was a big ship party scheduled at ten o'clock that evening on the Lido Deck. It was actually outdoors by the ship's pool and party stage, so we weren't affected. I packed it in at about midnight, but I heard the jam lasted until 3am.
Thursday was our day at sea and the schedule was open to spontaneous jams. I attended a bluegrass slo-jam in the afternoon and got to experience a little of the bluegrass vibe. We commandeered a corner of the huge lounge for a final afternoon session.
Friday morning we arrived in Long Beach. There was an orderly debarkation process, and we set out for home by about 10am; the exit to the parking lot dumped us right onto the 710 Freeway.
I learned a lot on my first music cruise, such as don't forget to bring a music stand, music light, extra capo, extra strings, and a string winder; the Rise Up Singing book is a valuable resource to bring along. The weather may be warm, but the ship is over air-conditioned so bring some warm clothes; and don't forget to bring along some finery for picture night.
It's possible to deal with big and/or multiple instruments; it was something to see — people hauling a cart with multiple instruments, including a stand-up bass. Humidity didn't seem to be a problem for the instruments on board ship; I felt comfortable bringing my precious Taylor guitar. Cell phones only work in domestic ports, and connections can be tenuous; walkie-talkies are handy.
The cruise is a relative bargain compared to other vacation options; nice hotel rooms usually run from about $150 up per night, plus meals, air and taxis fares, and entertainment.
Inside rooms are $389 per person and rooms with windows are $419 per person; the cost includes a $40 booking fee; those who sign up early will receive a $50 on-board credit. The typical gratuity envelopes have been eliminated; they just add $46 per cruiser to your bill for the whole week. Prices may go up after the end of September, so it's best to book early. It only takes a $150-per-person deposit to secure your place; and if something unforeseen arises, you can receive a full refund up until November. The 2013 cruise sets sail January 28, returning on February 1 and is billed as "The 5th Annual Cruise2Jam, Friends2Veterans Cruise" to honor our veterans.
Parking at the cruise terminal was $60 for the week, but several people spent Sunday night on the Queen Mary, which is docked next to the cruise ship. The Queen Mary has a "Cruise" package with rooms starting at $119 for the night — that includes free parking for the week.
Jerry is already soliciting deposits so he can determine how many rooms to reserve. I hope we can have even more people join us. Check out the website at http://cruise2jam.com/ for more details and get your deposit in now; I guarantee you won't regret it.