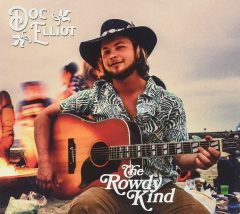 Originally from Oceanside, country music artist Doc Elliot has spent years on the road, and in 2018 transplanted to Texas. There, the singer/songwriter scored a record contract and was soon co-writing songs for Kinky Friedman; now the 24-year old has released a debut CD, The Rowdy Kind.
The new project is a ten-song set with eight originals, produced by established country figures Jaime Wyatt and Justin Guip. Elliot handles vocals, guitars, bass, keys, and mandolin, and the rest of the Texas recording crew sound like seasoned pros doing some Nashville channeling. His strong vocals have an endearing country twang with slick instrumentation framing his songs. He cites Leon Russell, Hank Williams Jr., and Merle Haggard as influences, and his sound seems to incorporate some of Russell's trademarks.
Things open up with the title track, a lively made-for-radio song that celebrates his wild side: "I'm a fighter in life, the rowdy kind/ Too much quiet and I lose my damn mind." It is catchy and the delivery is pumped full of energy by fiddle, layered guitars, and pedal steel. Like on the other songs here, Elliot is drawing within the lines of the typical country fare—about drinking, partying, and wayward lovemaking. "Bloody Mary Monday" carries the same lifestyle message: after a long, hard weekend he is hung over and lonely for a lover. It works because of his deep voice that pushes buttons of weathered experience beyond his years. Slowing things down, "Bad Habits" is a ballad about a life lived hard with few regrets.
Jimmy Buffett's "Nautical Wheelers" is a waltz-beat cover that works well, with nicely executed choruses: "Everyone here is still more than contented to be livin' and dyin' in three-quarter time." The mid-tempo "Between the Lines" documents another hit-and-miss love affair and reduced expectations: "Maybe it's you, maybe it's me/ I'll just blame my history." Elliot delivers a slow country ballad co-written by David Allan Coe titled "One Disaster at a Time," again echoing the same sentiments. If there is anything about the set that could be criticized, it is that the most of the original songs seem uniformly designed to convey a somber, outlaw persona.
"The Duke Boys (& Me)" is another slowly paced ballad, this one in 3/4 time, about drinking moonshine and having a good time. The set closes with an appropriate cover, "Willin'." Lowell George's truck-driver classic is slowed down a bit, and Elliot has the kind of vocal presence to inhabit a song about smuggling cigarettes while zonked on cross-white speed and pot, helped by nice, lilting background singing from Friedman and others.
Doc Elliot's The Rowdy Kind is as advertised: a road-tested artist following the footsteps made by other male country players for decades. It doesn't break new ground but makes for a smooth trip to a familiar place.