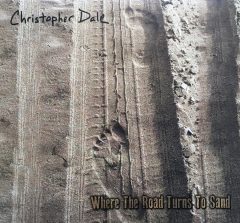 Christopher Dale's last release, Wood & Stings, was an "unplugged" EP, featuring violinist Elise Ohki. While that superb disc was quiet and stark, Dale is a multi-faceted performer who covers a lot of musical ground, and the singer-songwriter is comfortable in many genres. He is back with his fifth release, Where the Road Turns to Sand, an EP that for the most part falls into the beach soft rock category. The six originals were produced by Dale and Andy Machin with a studio crew that includes his vocals, acoustic guitar, ukulele, and percussion; Machin on backing vocals, accordion, and guitars; with Ken Dow on bass and Billy Wear on drums. The cover art shows sand with footprints on tire tracks, and the music captures the vibe well. It's about the lifestyle of the beach bum, hanging out and drinking on the shoreline with like-minded souls.
"Bay Dreaming" opens and sets the tone, it's laid back with a soft flow as he sings about his idyllic secret place where he flees by boat, "where it's just me and my breathin'." Dale sings the praise of drinking a beer and fishing, peace and quiet. The smooth harmonies and whistled bridge help set the mellow mood. Dale kicks into another gear for "She's Turning Sexty," a rocker that celebrates a woman who "mixes classy with sassy" and enjoys her middle-aged life, partying as hard as ever—it's a disc highlight that will have listeners recalling the female friends they know who follow the same mantra.
"Boat Club" is a ukulele-driven tune about going out on the water, sharing gas money and beer with boat-owning friends, and not having any worries—besides maybe the occasional drunken Coast Guard rendezvous. Nice nylon-string guitar fills help give "San Felipe" a Latin vibe as the pace slows, but the message is the same as elsewhere—he's kicking back with cerveza, "breathing nice and slow and going with the flow/Mi amigo, you know you're in Mexico."
On "Wait for You," it is just Dale and his ukulele, introspective this time as he sings about his relationship with a lover, realizing that he knows he won't be able to get control of his world, but will need to be patient. And that taking refuge in drink and friends, or leaving are not going to solve his problem. The disc wraps with a live performance of "It Happened Again," another story of a booze-fueled episode, this time with an anonymous lover humorously encountered in the course of the Friday night of a nearly lost weekend.
Where the Road Turns to Sand is enjoyable beach music, delivered with gusto by Christopher Dale.