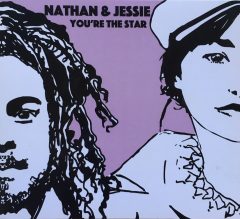 Nathan and Jessie, from Temecula but more accurately residents of the entire planet, have been busy since their 2015 debut recording, If I Could I Would, and now have four full length CDs and an EP out, including 2018's That'll Never Be Me, and their new album is You're the Star. Their sound is a fascinating hybrid of influences that features both singing, writing, and playing National resonator guitars, performing music that spans time, style, and sometimes culture and language. Nathan (Rivera) is a multi-instrumentalist who also plays electric guitar, accordion, clarinet, piano, and electric bass; Jessie (Andra Smith) adds electric guitar, Trevor Mulvey plays upright and electric bass, and Blake Armstrong is on drums, with some drums added by Josh Frontiero. The disc was nicely recorded by Nathan James.
The music is impossible to pigeon hole, since Nathan and Jessie alternate on the writing and singing, and he is a world-traveling street busker who plays guitar Django Reinhardt-style, can play jazzy clarinet, and sing Latin-tinged songs in Spanish, while Jessie has travelled Europe with him and writes songs with pop and blues hooks. On the 14 tracks, two things are constants: a good time sound and surprises.
The title tune opens, with Jessie singing lead about the star of her bad dreams, with accordion licks in support. Like the other music here, it is lightweight but super pleasant pop stuff, and tasty arrangements help carry it off again and again, helped by Jessie's virtuosity on many instruments. "Chiquitita" is Nathan's first track to sing, and it floats on air before Jessie gets her blues on with "I've Already Got Me a Man." Her vocals are a strength throughout, and Jessie's harmonies with her are warm and organic. Another Jessie song that scores well is "A History on Lost Art," which has a swing jazz chassis and scat-sung phrases that propels her lyrics, singing "Kiss me when you see me/ Hold my hand in the dark/ I don't want our love to become a lost art." The song wisely takes several opportunities to fill their air with guitar fills that sound like lifts from pre-war Reinhardt recordings, a definitely highlight.
The eclectic quotient remains high with Nathan's 3/4 time "Falling in Love," a simple love song that includes grand piano and clarinet contributions. It is different and shows the breadth of musical ability this duo has, as they joyfully harmonize on bridges. Jessie is back at the mic for her "Sailor Song," stepping into the tradition of toe-tapping songs about wishing, "I wish I was a sailor, I'd have starfish for dinner/ A little seaweed on the side, nothing else could get much better on my boat." Jessie's "No More Second Guessing" wraps the program, a pop tune that features, like so many others, sharp harmonies and nice guitar work. The album has a lot of other worthy tracks, including Jessie's "Petty Tom Blues" and Nathan's "Maria." It is overall a generous batch of music that covers a lot of ground by a very talented pair.