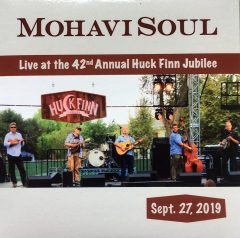 Randy Hanson and Mark Miller are the two founders and principal songwriters and singers for Mohavisoul, the local bluegrass quintet. Hailing from Ocean Beach, the band was put together in 2012 with Hanson on mandolin and vocals, Miller on guitar, Orion Boucher on bass, Jason Weiss on banjo, and Dan Sankey on fiddle. All five sing, with most of the lead slots held down by Hanson and Miller. They have been busy playing festivals all over SoCal and elsewhere and releasing CDs, with the latest being Live at the 42nd Annual Huck Finn Jubilee, recorded in Ontario in September 2019. Their press release calls their live sound "California-style Bluegrass/Americana" and it covers it well, as this is good time music that combines instrumental prowess, harmonies, clever lyrical stories, and humor—along with a nod to the traditions of the bluegrass form.
The vocalists alternate on the lead mic, and Miller opens up with "Drinker's Lament," a good start that cruises at good velocity with all five cranking out on their wooden instruments, as the singer relates, "Me, I'm takin' off the edge til the day I die." The band's strength is the organic blend of their string playing and how it meshes with their friendly, not-quite-irreverent vocals. Hanson takes over on "More White House Blues," which has a pace similar to "Lament" and relates the well-established history of Washington's parade "From McKinley to Nixon/ Then you know who …you're bound to lie." Too true.
Slowing down and throwing in a minor here and there, "Lay Your Needle Down' is a love song to vinyl records, with a really nice solo spot by Sankey and plenty of mandolin fills throughout by Hanson; it sounds like an update of an old chestnut at a country dance. Miller's "Dozen Roses" is a brisk exercise in harmonies, and yet another toe-tapping barn-burner on an album loaded with them.
Boucher wrote and sings "Self-Imposed Highs and Lows" about hangover adventures, and it is an effective rave-up that includes observations like "Friends play music to wake you up/ Throw some coffee in my cup/ Hopping in the truck and I'm still feelin' drunk." Hanson's "Blue Deisel" was the title tune of their 2014 EP and it is a blast, with great lyrics about a ride on a train while stoned on pot, relayed in ragged three-part harmonies to a beat that feels like a chugging steam engine.
The riots in Ferguson, Missouri, following the fatal shooting of a black youth by a white cop in 2014, are the subject of "Ferguson Fights," another song about the state of society. "Is the revolution still on tonight?/Can we take back the night?" The set wraps with Waylon Jennings' "Lonesome, Or'ny, and Mean." A fitting finale, the longest track here, it gives Sanky, then Weiss, some room to flash their skills. Mohavisoul have a great audience connection and their new live album shows why.