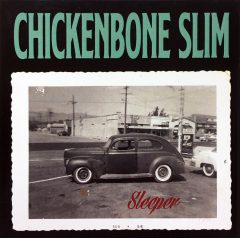 Recently, the San Diego Music Awards Best Blues Album nominees included Sleeper by Chickenbone Slim. His third release (and third SDMA nomination), it follows up 2017's Big Beat. Larry Teves is Chickenbone and the new disc collects ten of his originals, which touch many of the bases in the blues combo genre, while stepping out of the box a few times.
The personnel this time include Chickenbone on guitar and vocals, Scott Smart on guitar, Troy Sandow on harmonica, Andrew Crane on bass, and Marty Dodson's drums. There are guest appearances by Laura Chavez, Christoffer "Kid" Anderson, and former Beat Farmers Jerry Raney and Joey Harris. It's mostly standard blues combo fare, but stands apart because of Chickenbone's distinctive vocal presence, tight delivery, and reluctance to abandon established blues grooves that have worked wonders for decades for similar combos like the Fabulous Thunderbirds, Ronnie Earl's band, Coco Montoya, and others.
"Vampire Baby" gets the set off to a rousing start, as Chickenbone is fine form, singing about how he "rolls in the dark of night." His vox feels just right in the pocket, surrounded by stinging guitar chops and wailing harp, and on "Tougher Than That" he and his crew put the hammer down on a blues-rocker with some gusto, two and a half minutes of muscular blues guitars pushing his braggadocio lyrics, the kind expected from a blues man.
"The Ballad of Dick" is a special moment, a longer tune that is a tribute to the late Country Dick Montana, with a rockabilly feel and lyrics about how the late original Beat Farmer drummer was born in a lightning rain storm, with fists that were "two hammers of steel." The lyrics touch on many of the high points of the local cowpunk hero's saga before passing on stage 25 years ago, and the tale is given an added dose of poignant feeling by solos played and harmonies sung by Montana's former bandmates Raney and Harris. Next up, "Strolling with Chickenbone" is a fun, jumping instrumental featuring the guitarists each taking solo turns, with some Jimmy Vaughn influences easily heard.
The boogie is back for "Ride," which glides briskly as it references a midnight train, with hot harp and guitar interludes, all driven by tasty drum work by Dodson. "Helpless" is the only misfire, a try by Chickenbone for something different, with just himself and a fret-buzzed acoustic guitar (and an overdubbed, reverbed solo), in a key he has to stretch for as he sings an introspective love song. Good lyrics but it seems out of place in this set. Later, back on firmer footing with "Little Victory" and "Dignity," the first being a blues rocker about the battle of day-to-day existence, with Chickenbone wanting a sign that he is getting ahead—hammered home with two ragged, incisive guitar breaks.  On the latter, he wants his woman, who is of course a lowdown liar and destroyer, just to give him his dignity, if nothing else. Blues lovers will find themselves right at home on Chickenbone Slim's Sleeper.